60s Highway Construction Changed Lakewood's Landscape
Massive new highway expansion forever changed the face of the United States, Ohio and Lakewood during the 1960s and 70s.
President Dwight D. Eisenhower had, in 1956, signed into law the Federal Aid Highway Act, which funded the construction of 41,000 miles of four-lane, interstate highways at a cost of $25 billion.
Prior to interstate highways, many roads connecting cities were simply two lanes. Almost all of them traveled through small- and medium-sized towns and were the main commercial streets in these municipalities. As a result, a drive from Cleveland to Columbus along Rte. 42 was a six-hour journey replete with numerous traffic lights and stops. Today a driver zips to Columbus along adjacent I-71 in two hours.
Eisenhower, according to History.com, said construction of the modern four-lane highways would "eliminate unsafe roads, inefficient routes, traffic jams and all other things that got in the way of speedy, safe travel." Other highway advocates argued, according to the same site, that the new highways would, "in the case of atomic attack on our key cities … allow for quick evacuation of target areas."
As a result, throughout the nation, new roads were designed and constructed.
The Cuyahoga County Engineer during this period was Albert Porter. Porter, a Lakewood High School and Ohio State graduate, was a man on a mission who took seriously his job and eagerly engaged in the new road construction mania.
A countywide freeway blueprint, the Comprehensive Arterial Highway Plan, was unveiled that connected virtually every Cleveland neighborhood and suburb to the interstate highway system.
At the time, little discussion was directed toward the new highways' negative impact on city neighborhoods or the ensuing urban sprawl.
As a part of this plan, state and local planners designed I-90, named the Northwest Freeway, on Cleveland's west side to connect Lakewood and western suburbs to the larger grid.
According to the Comprehensive Arterial Highway Plan as presented to the Cuyahoga County Commissioners, "two principal alternative locations have been proposed for the Northwest Freeway. One is a Lake Erie shore location proposed by the Regional Association and the other is a route adjacent to Lakewood Heights Boulevard as proposed by the Regional Planning Commission." The County proceeded with the route adjacent to Lakewood Heights Boulevard despite the report's caution that, "Right-of-way costs and property damages would be higher than for the lakeshore route."
Lakewood's contribution to this "progress" included demolition of 130 homes along the south end of the city. Entire neighborhoods were lost, abruptly splitting streets like Woodward, Niagara, and Northland from their other half and from the rest of Lakewood.
The Lakewood portion of I-90 was plagued by construction delays, engineering issues and litigation. County construction on I-90 began in 1965 and the Lakewood portion of the road didn't open until thirteen years later on Nov. 4, 1978. Engineers found that the interchange originally planned for Riverside Drive was unworkable, so a new interchange was designed and constructed for nearby McKinley Avenue. As a result of these changes and ongoing concerns raised by Lakewood officials and private citizens, homes in the right-of-way acquired for the road, remained abandoned and vacant for an extended period prior to their eventual demolition and pursuant road construction.
Meanwhile, on the other end of town, the long-planned Lake/Clifton bridge was taking shape. Prior to construction of the bridge, westbound Clifton Blvd. traffic traveled down West Clifton to Sloane, and then over the Detroit Bridge to Rocky River. The proposed bridge would serve as a shortcut and time saver and connect drivers directly to Lake Road in Rocky River.
Some readers may wonder why the "old" McDonald's was situated on Sloane Avenue. At the time of its construction in 1963 and prior to erecting the Lake/Clifton bridge, Sloane was a main commuter highway to the western suburbs.
This "connection" to Lake Road in Rocky River was also first proposed in the mid-50s. City officials, including then-Mayor Frank Celeste, vigorously fought the highway's construction, and numerous court actions delayed construction.
In Clifton Park, the "new road," as it was dubbed by residents, caused the relocation of eight stately homes and cut the Park in half…as it remains today. The semi-secluded stately residential tenor of the Park was permanently damaged.
After several years of delay, in 1965, the road and the Lake/Clifton bridge opened.
In the late 1980s when the City dedicated Frank Celeste Park at the corner of West Clifton, Celeste's son, Governor Richard F. Celeste, noted the appropriateness of naming the city park after his father, given the fierce opposition Mayor Celeste had expressed to the "new road."
Engineer Porter, who served as Chairman of the Cuyahoga County Democratic Party from 1963 to 1969, justified the countywide road construction as needed progress. As miles of new interstate highways were planned or constructed in the County, he fought increasing residential resistance to his plans. At one point he wrote a snappy, well-publicized letter in reply to an Olmsted Falls schoolgirl who questioned a new road project in her community.
Porter was finally booted from office when he tried to extend the Clark freeway through the Shaker Lakes nature preserve on the east side, linking central Cleveland with Pepper Pike.
According to the Oct. 11, 2011 Sun News, Porter said in 1963 about Shaker Lakes, "it's a dinky little park with a two-bit duck pond. [Is it] worth the $12-14 million and 400 homes to go around it?"
Shaker residents, many of whom were silent or supportive in regards to road construction projects in other parts of the county, answered with a resounding "yes.
Porter was defeated for re-election in 1976, but his vision of a countywide superhighway system and its impact on Lakewood lives today.
Tom George can be reached at (440)734-8177 or TJGeorge1369@msn.com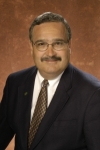 Thomas George
50+ years proud Lakewood resident BA Journalism, THE Ohio State University, Columbus, Ohio, general assignment reporter Ohio State Lantern daily newspaper active in civic and community affairs in Lakewood for many years
Read More on Historical
Volume 8, Issue 20, Posted 8:58 PM, 10.02.2012