State Rep. Nickie J. Antonio Applauds Pension Reform Passage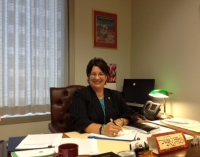 State Representative Nickie J. Antonio (D-Lakewood) today voted in support of reform for Ohio's five public pension systems. Rep. Antonio serves on the House Health and Aging Committee and applauds the work of the subcommittee, which was instrumental in bringing together interested parties and the general public to fully understand the reform implications. Affected parties were not only consulted but were involved in crafting legislative solutions to meet the unique needs of the five pension systems.
"This has been a good example of the proper use of how our legislative process can work in the House in true bipartisan fashion," said Rep. Antonio.
More than one million Ohioans depend on income from one of the five retirement systems. The ability to plan for income, and count on retirement stability not only helps the retirees but ensures their participation in Ohio's economy. The pension systems represent over $100 billion in financial resources for their members.
Nickie Antonio
State Representative Nickie J. Antonio (D-Lakewood) is honored to be serving her first term in the Ohio House of Representatives. House District 13 covers the city of Lakewood in its entirety and parts of Cleveland's West Side including the Detroit Shoreway (Gordon Square), the Stockyards, West Boulevard, Cuddell, and a section of Ohio City. Representative Antonio is a civic minded humanitarian who is concerned with the quality of life of those around her. She is a founding member of the Community Relations Advisory Commission made up of residents that broadly represent social, economic and culturally diverse interests of Lakewood, Ohio. She currently serves on the Health and Aging Committee, Education Committee and Commerce and Labor Committee. These committees are of special interest to Representative Antono as she will be able to stand up for working families, education, and health and human services. Daughters Ariel and Stacey, both Lakewood High School graduates, have made Nickie and partner Jean Kosmac very proud as the girls engage in their post-secondary pursuits
Read More on Seniors
Volume 8, Issue 19, Posted 8:33 PM, 09.18.2012