Lakewood Presbyterian Church Hosts Music Camp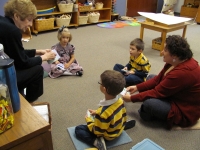 On Saturday, September 8 from 1-2:15 p.m., Lakewood Presbyterian Church (LPC) will host a free music camp for children in preschool through grade 12. The goal of the camp is to introduce Lakewood's children, youth, and families to the many high-quality music ensembles that are led by skilled and experienced professionals at LPC. Inspired by the knowledge that musical training for children leads to literacy and helps children to develop critical thinking and social skills, LPC is pleased to offer three music ensembles for children and youth.
Children in preschool and kindergarten are invited to participate in Children of Note, led by Natalie Welty and Sara Lindberg. These children have the opportunity to engage in age-appropriate rhythm and singing activities. Parents are encouraged to attend Children of Note to observe and participate in family music activities. Children of Note sing/play in worship occasionally during the church's program year.
Children in grades 1-5 participate in the Carol-Crusader Choir, which is directed by Paula Maust. This choir learns the basics of note and rhythm-reading and the fundamentals of healthy choral singing while singing a variety of classical, global, and contemporary anthems. The Carol-Crusader Choir sings in worship the first Sunday of each month during the program year.
Youth in grades 6-12 have the opportunity to play in the Chapel Bell Ensemble, which is directed by Bob Paraska. In this ensemble, youth continue to learn note and rhythm reading as well as the fundamentals of bell ringing and more advanced techniques. The Chapel Bell Ensemble plays in worship on the third Sunday of each month during the program year.
All LPC children and youth music ensembles have weekly Sunday morning rehearsals from 9-9:30 a.m., beginning on Sunday, September 16. Any child is invited to participate in the music camp, as well as the music opportunities during the program year. A variety of Christian Education and Formation classes are offered for parents on Sunday mornings during music rehearsals. To R.S.V.P. for the music camp or for more information, please contact Paula Maust at pmaust@lakewoodpresbyterian.org or (216) 226-0514, ex. 23. Lakewood Presbyteiran Church is a Congregation of the Presbyterian Church (USA) in the Presbytery of the Western Reserve.
Paula Maust
Paula Maust is a recent graduate of the Cleveland Institute of Music, where she earned the MM degree in Organ Performance. She currently works as the organist and children's choir director at Lakewood Presbyterian Church. She is also a piano instructor at the Avon School of Music and the Saturday mass organist at Immaculate Conception Church in Cleveland.
Read More on Kid's Corner
Volume 8, Issue 18, Posted 9:58 PM, 09.05.2012