Fit In Five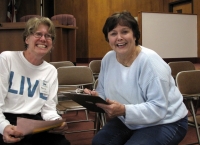 What good is living in the most walkable city in Ohio if you're not out there walking?!
Health benefits of walking include: Stress reduction and increased feeling of well-being; weight loss, both through the exercise itself and the reduction of cravings it generates; lower blood pressure; better sleep; and more energy.
Join Live Well Lakewood for our 3rd Annual Walking Challenge to be held at Madison Park, South Pavilion, Wednesday evenings at 6:30 pm, September 12th through October 17th. The first walk on Wednesday, September 12th will be 1 mile. We will increase our distance by 1/2 mile each week to reach our goal of 3 miles. Participants walk at their own pace and can share our walking goals or set their own. Not ready for two miles? Just walk one. Need a longer walk? Do the route twice. Live Well Lakewood's Bonnie Sikes is our resident cartographer. She's mapping out a walk of the appropriate distance for each week that steps off from the Madison Park pavilion and explores the surrounding streets. You may even learn a little bit about the history of Birdtown and landmarks in the neighborhood. WE WALK RAIN OR SHINE!
Come early on the first night, as from 5:30 – 6:30 p.m. we'll be doing a mini-assessment. You'll get your height, weight, waist/hip ratio & blood pressure, and be able to compare at the end of 5 weeks when we do it again & you can see the positive changes you've made.
Take the Challenge to get ready for the Lakewood Women's Club annual Pumpkin Run on October 28th and you'll get $5 off your entry fee.
On October 17th, if you've attended at least 4 out of the 5 sessions, celebrate your success at our potluck dinner at the Turkish American Cultural Center, 13303 Madison. We'll each bring a healthy dish to share, along with the recipe, which we'll post on the Live Well Lakewood Facebook page. Then you'll be able to make at home the delicious food you've sampled at the dinner.
Fit in Five is Free for Lakewood Residents.
Registration is requested, but not required. To sign up, email info@livewelllakewood.org, call 216-529-7695, visit the Madison Library, or just come to Madison Park on September 12th. You'll be glad you did!
Read More on Wellness Watch
Volume 8, Issue 18, Posted 9:58 PM, 09.05.2012