Lakewood Sends First Female Delegate To A Democratic Convention
On September 3rd until September 6th the 2012 Democratic Party National Convention will be held in Charlotte, North Carolina. There will be delegates from each state, including hundreds of women delegates.
But on June 28, 1920 when the Democratic Party convened in San Francisco's Civic Auditorium, there was one lone woman delegate…...Lakewood's Bernice Secrest Pyke.
According to the Encyclopedia of Cleveland History, Pyke, a member of the Lakewood Board of Education, was the first female to be a delegate to a National Democratic Convention.
The Encyclopedia goes on to say, "Pyke was active in the women's suffrage movement in Cuyahoga County and in 1920 was elected a delegate to the Democratic National Convention where she was in charge of the women's efforts to promote the candidacy of Governor James Cox of Ohio for president."
Hard to believe today, but it was 1920 before women in the United States were permitted to vote for federal offices, such as president.
In Ohio women suffrage leaders had made attempts to change the Ohio Constitution on several occasions in order to allow women the right to vote.
Statewide ballot efforts in 1912 and in 1914 to allow women the right to vote were rejected.
Meanwhile, some progressive communities undertook efforts to allow women voting rights in their municipalities.
In 1917, Lakewood officials proposed a charter change that would allow Lakewood women to be among the country's first to vote in municipal elections.
According to Lakewood writers Jim and Susan Borchert, a statewide referendum to enfranchise women to vote in the presidential election was also on the 1917 ballot. The statewide effort failed, but the Lakewood charter change, with the help of many, passed, thus allowing Lakewood women to vote on municipal issues.
According to the Borcherts, "Lakewood suffragists, led by C.E.Kendel, Bernice Pyke and Maude Waitt, pressed for an amendment to Lakewood's city charter. With the strong support of Councilman George Palda, the measure passed council and appeared on the November 1917 ballot. A statewide referendum on a presidential franchise for women shared that ballot."
"Members of the Women's Suffrage Party left few stones unturned in their dual campaign for these issues. Suffrage workers raised money with bake sales and campaigned in every section of Lakewood. The Lakewood Press reported some women canvassed at night 'accompanied by their husbands, who are now showing their loyalty to suffrage and their belief in our cause of municipal suffrage. Their hard work paid off. Although the presidential suffrage vote went down to defeat statewide, Lakewood men voted to extend the municipal vote to women,'"
It wasn't until 1920 that passage of the 19th Amendment to the U.S. Constitution granted women full voting rights.
Bernice S. Pyke, according to "A Compilation of Histories: the Lakewood Public Schools," was appointed to a seat on the Lakewood Board of Education in August 1918 and won election in 1920. Pyke served on the school board until 1931.
According to Ohio History Central, a product of the Ohio Historical Society, Mrs. Pyke, who was born March 22, 1880, "was the first woman appointed to serve as a delegate to the Democratic National Convention. In 1932 the Democratic Party even permitted Pyke to address the convention."
Reports suggest that Mrs. Pyke used her convention podium time to caution delegates about the candidacy of Gov. Franklin D. Roosevelt of New York, the eventual nominee.
Nevertheless, after the election of 1932, President Franklin D. Roosevelt appointed Pyke as director of customs collection for Ohio. Pyke served as director of customs collection through the Roosevelt Administration and upon Roosevelt's death in 1945, was re-appointed to the position by President Harry S. Truman.
Five days prior to her 71st birthday, President Truman signed Executive Order 10225, dated March 17, 1951, which exempted Mrs. Pyke from mandatory retirement required by federal statute. She was re-appointed to her position by a third president, Republican Dwight D. Eisenhower and retired in 1953.
In her full career, Pyke also served as the first female cabinet member of the City of Cleveland and was a founder of both Lakewood Hospital and the Lakewood Public Library.
The Ladies Home Journal of May 1921 noted that Democratic National Chairman George White had appointed Mrs. Pyke to a seat on the party's national executive committee.
The Ladies Home Journal noted, "as women have forced their way into the business and industry of the country, so they will force their way into public affairs."
After many years of public service, Mrs. Pyke died in 1964.
Bernice S. Pyke, first woman delegate to a Democratic Convention, another Lakewood first.
Tom George can be reached at (440)734-8177 or TJGeorge1369@msn.com.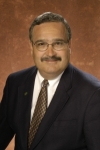 Thomas George
50+ years proud Lakewood resident BA Journalism, THE Ohio State University, Columbus, Ohio, general assignment reporter Ohio State Lantern daily newspaper active in civic and community affairs in Lakewood for many years
Read More on Historical
Volume 8, Issue 16, Posted 10:20 PM, 08.07.2012