Lakewood Making Big Changes For Cyclists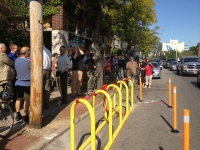 If you're a regular Detroit Road commuter (regardless of your means of travel), you probably noticed a new obstacle in the road. I am, of course, refering to the brand-spanking new yellow bike corral planted in the street on the block in front of the Root Cafe. Installed on Friday, May 18th, the corral will hold up to 12 bikes parked safely in the street, in a space that would only allow for one car. Julie Hutchinson of the Root Cafe, during the ribbon-cutting ceremony mentioned that she could not wait for a time when there will be no cars on the road whatsoever. No matter how ridiculous that may seem to you, it's doable, and in my mind Lakewood is capable of creating bike-only boulevards right in our downtown area.
There are, of course, a few things to remember when considering the ongoing safety of transporting ourselves. The rack is bolted in to the street, so it isn't going anywhere. The orange posts are flexible, and can be run over by a vehicle. They create a barrier, but not one that is solid, so be aware when both driving a car, and parking your bicycle, that you still need to be conscious of your surroundings.
The city of Lakewood has already begun installing more bike racks throughout the city. They are blue, inverted U-racks which are marked by a large circular sign with the silhouette of a bicycle. In addition to marking the area to park your bike, the signs also serve as a tell to vehicular drivers that Detroit is a heavily traveled avenue for cyclists, and to take caution accordingly.
So what does this big yellow corral mean for us as cyclists? First of all, we need to use it. Get our bikes out and prove to each other, ourselves, our neighbors, our neighboring communities and cities, that we are serious about this movement of cycling. It is a lifestyle, it is not a fad.
And what does the future look like? The city as well as many local businesses have plans to install many more racks throughout the city, some of which will be crafted by local artisans, to give a uniqueness to each space, and to be supportive of all of the local resources at our fingertips. Talks of sharrows (street-painted bike silhouettes with a double arrow) are in the works as the next big part of the city's Bike Plan, so it is our job as cycling citizens to show our presence as much as possible to prove the need for such things.
Really what it comes down to is that no matter from what angle it is approached, there are some incredibly positive things happening in Lakewood for cyclists. I feel an energy about it that is strong and lasting, and it is so exciting to be able to share that with more and more people as time goes on. I love Lakewood, I love Cleveland, and there is no better way to experience life in this region than on a bike.
(That you can park on the street). Cool, huh?
photo credit: Julie Hutchinson
Erika Durham
I am a 26 year old woman who drinks coffee and beer, rides some bikes, reads, takes pictures, makes stuff, and runs long distances.
Read More on Lakewood Living
Volume 8, Issue 11, Posted 10:52 PM, 05.30.2012