Lakewood Assisted Living Community Recieves Distinguished Dining Award Of Excellence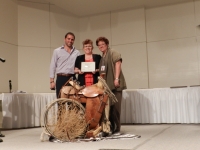 At Northwesterly Assisted Living Community, they rave about the food; and with good cause. Recently, Northwesterly announced an exceptional recognition received by its dietary department; the Crandall Corporate Dietician's Award of Excellence presented at Crandall Corporate Dietician's annual conference.
In January 2012, Chef Susan Hunter-Bollin received an invitation from Crandall Corporate Dietician's to attend their annual conference held in Mesa, Arizona. At the conference, Chef Hunter-Bollin was recognized for excellence in dietary management. The award was presented by Linda Crandall, President and CEO of Crandall Corporate Dieticians.
According to Michelle Hansen, consulting dietician from the Crandall Corporation, "In my career, I have not witnessed this degree of departmental excellence."
Accompanying Chef Hunter-Bollin were Ann Sevenich, Northwesterly Executive Director, and Scott Kantor, owner of the Northwesterly and Bloomfield Senior Living. "This is only one example of how the Northwesterly provides premier assisted living services to the residents," Mr. Kantor stated.
"I am very proud of Chef Sue and her team," stated Ms. Sevenich. "They have surpassed all expectations for excellence standards. Our dining room is open," she continued, "and I invite the public to dine with us and see for themselves just how good our menu and services are!" For a reservation to experience dining at Northwesterly, please contact us.
For additional information, please contact Annette Kelly at 216-228-2266 or annette@northwesterly.com.
Annette Kelly
The Northwesterly is an assisted living community located in the heart of Lakewood. We offer care for seniors 55 and up who may need support throughout the day. Our apartments are over 650 Sq Ft and include a full bathroom and kitchennette in each room. We are currently undergoing a nearly $1 Million remodel.
Read More on Seniors
Volume 8, Issue 8, Posted 9:41 PM, 04.17.2012