Marcy Kaptur Speaks At Lakewood Senior Center West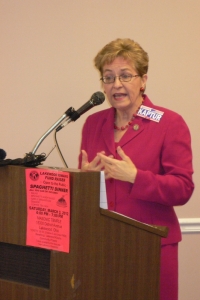 On March 1, Congresswoman Marcy Kaptur spoke to an attentive and responsive group of Lakewood's seniors at Lakewood Senior Center West as a post-luncheon guest. The Congresswoman has represented the Toledo area in the past, but her district has now been combined with Congressman Dennis Kucinich's, and the two Congressional Representatives were forced to face each other in this week's Democratic Primary Election for the 9th District in Ohio. A third candidate for Congress, Graham Vesey was also on the same Democratic primary ballot for Ohio's 9th district.

Kaptur generally confined her remarks to government and senior service related issues. She provided ample time for questions and answers, as well as for a meet-and-greet opportunity afterwards.
Read More on Seniors
Volume 8, Issue 5, Posted 9:48 PM, 03.07.2012