Northwesterly Celebrates Valentine's Day With A Full Royal Court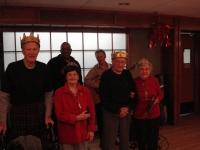 Northwesterly Assisted Living residents celebrated a very special Valentine's Day with friends and family while singing and dancing the night away. The dining room was temporarily transformed into a mini-ballroom where residents danced to their favorite tunes throughout the night. Dave Michaels was invited to perform at the event, serenading residents with classic oldies but goodies. Residents and staff of Northwesterly voted prior to the event to crown a King and Queen, and Prince and Princess. Northwesterly is home to 6 sets of couples who were in the running for King and Queen.
Wally and Lillian Wirtz took the crown at the end of the evening, sharing a romantic dance and their 67th Valentine's Day together. Jerry O'Malley and Gloria Rizzo were crowned Prince and Princess of the evening and enjoyed the time with family and friends. According to Michael Saunders, Northwesterly's Life Enrichment Coordinator, "The greatest healing therapy is friendship and love, and we certainly had that all night."
Annette Kelly
The Northwesterly is an assisted living community located in the heart of Lakewood. We offer care for seniors 55 and up who may need support throughout the day. Our apartments are over 650 Sq Ft and include a full bathroom and kitchennette in each room. We are currently undergoing a nearly $1 Million remodel.
Read More on Seniors
Volume 8, Issue 4, Posted 10:02 PM, 02.21.2012