Make The Switch To Electric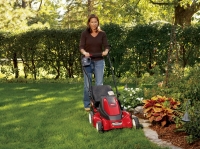 Is your old gas-powered lawnmower wheezing and sputtering in its final death throes? If so, consider switching to a quiet and clean electric mower. From basic push models with cords to self-propelled cordless models, there are mowers to fit any budget, from well-known manufacturers like Black and Decker, Toro, Craftsman, Homelite, Earthwise, Neuton, and Worx.
Why mess around with smelly, toxic, possibly carcinogenic gasoline when you can just plug in your mower? Today's rechargeable 36-volt models have enough power to mow one-third of an acre--more than adequate for most homeowners here in Lakewood.
An electric mower always starts the first time, with the push of a button, and you will never need to carry it precariously in your car's trunk for a tune-up. By cutting your lawn with an electric mower, you will end up wearing only the sweet smell of freshly mowed grass instead of reeking of small-engine exhaust. You will not breathe in all that gasoline-engine pollution, either. According to the Environmental Protection Agency, "Operating a typical gasoline-powered lawnmower for one hour produces the same amount of smog-forming hydrocarbons as driving an average car almost 200 miles under typical driving conditions."
Black and Decker, as an example, offers nine electric mowers, from a basic corded model for $174 MSRP to a self-propelled 36V model with a 19" cutting swatch and removable battery for $479. Consumer Reports has given three Black and Decker models its coveted "Recommended" rating.
In 2010, Toro entered the electric mower market with a 20" steel-decked mulching model named the e-Cycler. Toro's suggested retail price for this light-weight 77-pound mower is $419. A quick survey on Google Product Search (google.com/prdhp) and Amazon.com shows the e-Cycler earning an impressive four out of five stars.
Lakewood Hardware on Madison can special-order a mower for you or you can order one online at http://www.doitbest.com and have it delivered free to Ingersoll Hardware on Detroit. Most electric mowers come with a two-year warranty, and some also have a 30-day risk-free trial period.
Regardless of which model you buy, the electric lawnmower is a great replacement for a gas-powered model.
Read More on Home & Garden
Volume 7, Issue 12, Posted 8:19 AM, 06.15.2011