Roosevelt Trio Headed To Ohio Honors Choir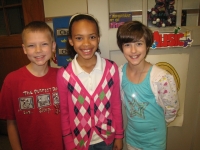 A trio of fourth-grade singers from Roosevelt Elementary will be heading to college this summer. The three – Mia Boland, Faith Hampton and Breslin McCrae– have been chosen to participate in the Ohio Choral Director's Association's Children's Honor Choir, which will convene at Otterbein College near Columbus June 20-22 to rehearse and perform with 150 Ohio students in grades 4-7 as part of the select choir. A guest conductor from Cincinnati will be leading the choir.

Teachers throughout the state were encouraged to nominate their most talented young singers for the choir. Roosevelt music teacher Lisa Van Scyoc nominated Mia, Faith and Breslin not only because they are strong singers but she said, "They also demonstrate excellent citizenship at Roosevelt and are musical leaders in their general music classes."

Van Scyoc has no doubt that the OCDA choir will be a boon all around for the young singers.

"They will be challenged with exciting music and will also gain valuable experience as they stay on a college campus and make new acquaintances. It will provide them with the opportunity to be with other students who are as musically skilled as they are and, more importantly, as motivated as they are to learn. I have no doubt that Mia, Faith, and Breslin will enjoy this opportunity and return with even greater vocal skills. I am so proud of them," Van Sycoc said.

The trio can expect some hard work before the performance though. They are required to attend two, three-hour rehearsals in Medina with other Children's Honor Choir selectees in the region before heading to Otterbein.
Read More on Seniors
Volume 7, Issue 11, Posted 2:53 PM, 06.01.2011