Lakewood's Shellie Sedlak Fnds Happiness, Hope And Hollywood In Cleveland's Gordon Square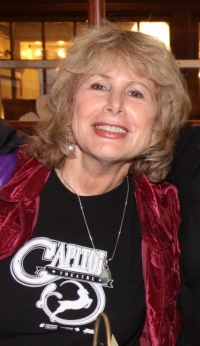 Longtime Lakewood resident Shellie Sedlak is a passionate champion of her West Side lifestyle. A native of New York City, Shellie shows her affection for her adopted hometown in a variety of ways. Among other community activities, Shellie has been a long time participant in Keep Lakewood Beautiful; she won the Governor's Award in 1993 for helping to start the City of Lakewood and Lakewood Hospital recycling programs. Like any good New Yorker, Shellie also appreciates Lakewood's density, walkability, historic architecture, and mix of retail.
Shellie's West Side home away from home is Cleveland's burgeoning Gordon Square Arts District, whose epicenter at West 65th Street and Detroit Avenue is less than a ten-minute drive from most parts of Lakewood.
"In addition to everything that Lakewood has to offer, I love that I can drive a few minutes east and have a night out of avant garde theater or catch a movie at the Capitol Theatre. Gordon Square just adds to everything that already makes my Lakewood life wonderful," says Sedlak.
Shellie first became involved in Gordon Square because of her passion for modern theater. In 2002, she began volunteering for Cleveland Public Theatre. Currently, she serves as the volunteer chair for CPT's annual "Pandemonium" fundraiser and is a member of their Board of Directors.
When Shellie heard that the Capitol Theatre was being renovated after three decades of closure, she was ecstatic. "I really admire Detroit Shoreway [Community Development Organization, the owner and developer] for bringing the theater back after it was abandoned for thirty years," Sedlak said, "The Capitol's reopening is made very poignant this year by the fact that we've just lost our historic Detroit Theater. The Gordon Square folks get that. They understand what it's like to have businesses close, and they understand loss."
"For me, losing the Detroit makes it even more important to continue to support neighborhood theaters like the Capitol."
Shellie decided to get more involved in Gordon Square in October 2009, when the Capitol, a 1920s-era silent film theater, re-opened as a three-screen all-digital cinema. She joined the Board of Detroit Shoreway C.D.O. and became active in a grassroots volunteer group called the Friends of the Capitol Theatre.
"We [the Friends] quickly realized that work had to be done to get the word out about the Capitol's opening. We want people to come down to experience movies in a unique urban environment. Plus, the Capitol is a special place for grown ups--they serve wine and beer at the concession stand!" Sedlak also noted the Capitol's special offerings such as a partnership with the Cleveland Cinematheque and a monthly classic movie series, additions to its regular schedule of Hollywood and independent films.
Shellie's work as a Capitol Theatre "Friend" has included leafleting at summer festivals across the region and arranging "Capitol movie nights" with groups of friends. She plans to continue volunteering both in Lakewood and in Gordon Square. "Cleveland and inner-ring suburbs like Lakewood should take hope from the Capitol Theatre's reopening. In a big box world, we have to have the courage to try to renovate our old neighborhoods and bring them back to life."
The Capitol Theatre is located at West 65th Street & Detroit Avenue in the Gordon Square Arts District of Cleveland (www.gordonsquare.org). During the month of March, the Capitol is offering a Lakewood Resident Discount: $6 admission with proof of residency* in the 44107 zip code.
*Acceptable forms of residency include state issued photo ID or utility bill showing current address.
For showtimes, call (440) 528-0355 or visit www.clevelandcinemas.com.
The Capitol Theatre features:
The best Hollywood, foreign & independent films
Free parking
Digital 3D projection & digital sound
Beer & wine at the concession stand
Monthly Sunday Classics Brunch & Movie Series
Melt Bar & Grilled Late Shift Series
Expanded legroom in upper auditoriums
Jenny Spencer
I am a resident of the Detroit Shoreway neighborhood in Cleveland, but I'm also a huge fan of Lakewood. I regularly read the Lakewood Observer. You'll find me in Lakewood for yoga classes, at Nature's Bin, at Root Cafe, at churches for fish fries during Lent, and at many of the cafes and bars. Kudos Lakewood for helping to make the "West Side" of Greater Cleveland great!
Read More on Out & About
Volume 7, Issue 6, Posted 2:15 PM, 03.22.2011