A Visit With Dr. Posman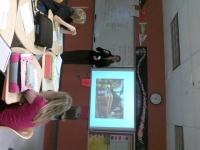 On March 1. 2011 Mr. Spooner's social studies class from Harding Middle School had a visit with Dr. Ellen Posman, a world religions professor at Baldwin-Wallace College. Mr. Spooner's class recently conducted a study on five of the world's religions; Judaism, Christianity, Buddhism, Hinduism, and Islam. Each student researched all of the religions, and then chose one to go deeper with. Together in groups of five, they created a digital encyclopedia incorporating the five religions they became masters on.
Dr. Posman helped fill in the blanks with the information the students did not find. She presented a PowerPoint with maps and pictures of the Holy places in each religion. She also showed us pictures of her travels abroad.
Her presentation was followed by a question and answer session where each student could ask Dr. Posman a question they had on the religion they studied further.
Here are some thoughts from students about Dr. Posman's visit:
Was having a professor come into your class a good way of learning? Why?
Yes, because it was nice having a conversation in a risk-free atmosphere. Also, the visual aids she provided were helpful with my learning process. –Rachel Daso
How would you describe your experience with Dr. Posman?
It was very interesting and informative. I thought this was a very good experience for my class and we would love her (or another expert) to come back to talk to my class to help fill in the blanks with our next study.-Elena Mulready
What was the most interesting thing you learned during your visit with Dr. Posman?
That is a very hard question to answer. She is just so knowledgeable on all of the religions. I would say it was the Buddha's story of all the sadness his father shielded him from.-Clare Ciolli
Would you consider this as a new learning method for other classes everywhere?
Yes, It is a very fun, interactive way to learn. I think it is easier to retain the information when you get it from a college professor not just reading it in a textbook. I still think that we should not discount text as another way because you can still learn a lot.-Nathaniel Zettler
Caleigh Sheehan and Kent Adams are sixth grade students at Harding Middle School.


Read More on Kid's Corner
Volume 7, Issue 5, Posted 2:20 PM, 03.08.2011