Twin Engine Rocks In The Christmas Spirit With "A Night in Bethlehem"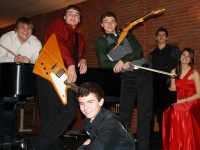 Not resting after their successful Lakewood Rocks 4 Music City event this past September, Twin Engine the Band set their sights on Christmas. They entered the studio and began writing, arranging and preparing an original Christmas musical event: A Night in Bethlehem.
The story, narrated by Kimberly Buehner and Gary Cavano, is set to an original score arranged by Twin Engine. The show opens with an electrifying version of O Holy Night, then onto a rockin' version of Mary Did You Know?. Music continues with dynamic guitar riffs, captivating leads from the electric violin, and forceful sounds from guest vocalist Ashley Rudd and Annie on keyboards.
A Night In Bethlehem is a delightful tale for the young and young at heart: the story of the birth of Jesus. The story takes place after the birth of Jesus, as a young boy named Jacob anxiously awaits his time to talk with Joseph. He's waited all day for Joseph to explain how this came to be, from the angels to the kings and how they arrived in Bethlehem.
The music of A Night in Bethlehem was inspired by the musicianship of the Mark Wood Experience, TSO, and Skel Rifton, AKA Terry Heston. The story and narration were inspired by a simple love for Christmas and its meaning. The December 19th show of A Night in Bethlehem will conclude with a short candle-lighting service, then more rockin' Christmas music from Twin Engine. The night promises to leave all in attendance full of Christmas spirit and an eagerness to tell their friends what they missed.
The show will take place at 7:00 p.m. on Sunday December 19 and is being hosted by Unity Spiritual Center on Detroit Road in Westlake (www.unityspiritualcenter.com).
This is a free event, though a love offering is appreciated. More shows are being added; look on www.tetheband.com for dates and times. A Night in Bethlehem is presented by Lapstrake Music and Promotion.
Twin Engine is not the traditional high school rock band. Sure there are guitars, drums and dynamic vocals, but it's our viper (electric violin) that helps round out this exciting package. Twin Engine has been together since 2007 and enjoys performing contemporary rock, classic rock and country music. Twin Engine has performed at the Ohio State Fair and in North Olmsted, Lakeside, Akron, Kent, Lakewood,...and the list continues. Twin Engine is: Christopher, Kent, Justice, Shawn and Cooper. Visit their website at www.tetheband.com
Read More on Out & About
Volume 6, Issue 25, Posted 4:20 PM, 12.14.2010