100 Years of Excellence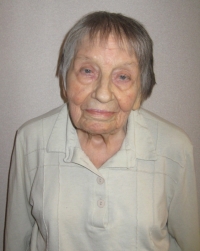 Irene Kinny, a resident of Lakewood Senior Health Campus Assisted Living since November 2009, will be turning 100 years old on August 29th. Irene has certainly had a full life. Born on a farm in Iowa City, Iowa, Irene learned early on how to do the chores that were required of her. Kerosene lamps helped to light the way as Irene cleaned the chimney, brought in the kindling for the wood stove, and much more. Irene worked on the farm until she was 17 years of age! After graduating from St. Mary's Catholic High School, Irene went to work at a commercial laundry because there was no money for college. Irene wasn't happy at the laundry, so she attended Brown Business College for 2 years, taking night classes. After graduation, Irene worked for 2 summers at a bank and her career took her to National City Bank for 19 years.
After retirement at 65, Irene was not content to sit around. She worked in the Recorder's Office for 7 years and kept herself busy by volunteering for St. Augustine Nursing Home (35 years), the Better Business Bureau (10 years), and the Cancer Society, and is also an honorary member of the U.S. Air Force. In the midst of all of this, Irene has managed to visit 29 countries.
When asked what has contributed to her long life, she remarked, "Be an optimist, like people, have a good sense of humor, and help others when you can." Irene is a member of Transfiguration Church in Lakewood, a product of a merger between St. Rose in Cleveland and Sts. Cyril & Methodius. Irene's faith plays a very important role in her life.
Christine Dorsey, Activity Director at the Inn, would describe Irene as, "a very pleasant and faithful woman, always a smile on her face and a rosary in her hand!" God Bless Irene!
Read More on Seniors
Volume 6, Issue 16, Posted 8:28 AM, 08.11.2010