Lakewood STREETWALK 2010 – Get Ready to "Tug" And "Run"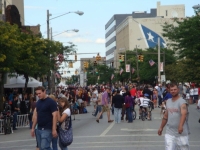 Get Active! There is much new to do this year at STREETWALK 2010. Try belly dancing, play 4-Square, test wall climbing skills, run a 5K race, and compete in a tug-o-war for the ultimate challenge against the Lakewood Firefighter Combat Challenge Team. Or, maybe you would prefer to eat great food, listen to music, and watch the Burning River Roller Girls roller-derby demo or the skate boarders try out the Red Bull ramps and jumps. There is definitely something for everyone.
The Second Annual STREETWALK will take place on July 17, 2010 from 3 p.m. – 8 p.m. on Detroit Avenue between Arthur and Marlowe Avenues. This community event promotes "active living" and last year drew more than 5,000 residents and visitors from Northeast Ohio to Downtown Lakewood. Check out last year's event at http://www.youtube.com/watch?v=_Yj3xRpMSfM.
New this year is the STREETWALK 5K Run which will begin at Lakewood Park (5 p.m.) and end in downtown Lakewood with the awards ceremony at 6:00 p.m. This Hermes managed event will be advertised to the running community and will also include a Children's Run to begin at St. Charles Green proceeding on closed Detroit Avenue and ending in front of Lakewood Center West. Register at www.heremescleveland.com.
Also new this year is the Lakewood Firefighter Combat Challenge Team and Local 382 Firefighters' Union Tug-o-War competition. We will be accepting 8 teams of five to compete with the final two teams tugging-off against the Lakewood Firefighter Combat Challenge Team. Awards will be provided. To sign up your team call 216-521-0655. Cost is $10.00 per team of five, with all proceeds going to the Lakewood Firefighter Combat Challenge Team.
If you would like to promote your business, church, or non-profit at STREETWALK 2010 we are still accepting applications to provide an "active" program or to be a food vendor. To obtain an application go to www.downtownlakewood.org or call 216-521-0655 to obtain additional information. To be included in the STREETWALK 2010 printed map, all program providers must submit their commitment application by June 1, 2010. STREETWALK 2010 is presented by Downtown Lakewood, a program of LakewoodAlive, a 501(c)(3) economic development organization focused on the revitalization of Lakewood's historic downtown.
Read More on Out & About
Volume 6, Issue 10, Posted 8:25 AM, 05.19.2010