Delores Berish Selected as Barton Center's Volunteer of the Year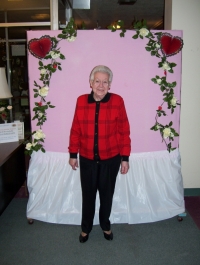 Delores Berish was voted by Barton Center members as the 2010 Barton Center 'Sweetheart,' or Volunteer of the Year. She was honored at a dinner held recently to recognize her many years of volunteer service at Barton Community Center. This was the 36th annual ceremony held to recognize Barton Center volunteers and was attended by 100 members, including 12 previous award recipients.
Delores was raised in Brownsville, PA, a small coal mining town south of Pittsburgh. At the end of World War II, she married a returning veteran and moved to Cleveland. They raised four children in the Detroit/Shoreway area of town, which at the time housed a large Italian population. After 17 years of marriage, her husband died and she remarried, adding two more children to the family. She has now been with her husband Lou for 47 years.
In addition to raising six children, Delores also worked at May Company downtown for 15 years, rising to Department Manager. After retiring, she and Lou moved to North Carolina. But within two years, they came back 'home' and lived in a house on Rosewood in Lakewood for 12 years. While living in Lakewood, Delores and Lou attended events at Barton Center, so when they needed to find housing without stairs, it was an easy decision to move to the Westerly Apartments.
Delores and Lou have now lived at Westerly for seven years, and Delores keeps herself busy volunteering at Barton Center. She started volunteering at the Hodge Podge retail shop, sorting and pricing items. She continues to volunteer there 3 to 4 days per week. Her duties also include handling the receipt of donated women's clothing and household items on weekends. Delores also helps with BINGO and every month walks door-to-door in the Westerly delivering hundreds of copies of the Barton Center newsletter.
Delores said she likes to keep busy and does not know what she would do with her time without the volunteer opportunities at Barton Center. She has made many friends, and said she does not know of a better place to live and socialize than at the Westerly Apartments and Barton Center.
Delores invites everyone to visit the Barton Center with its various shops, including: Hodge Podge furniture and resale shop, Greenhouse, Corner Store, Fabric Shop and Book Nook. Membership in the Barton Center is available to anyone age 55 or over for $15 per year. To find out more about Ohio's first senior center, call Barton Center at 216-221-3400. Barton Center is located on the Ground Floor of the Westerly Apartments at 14300 Detroit Ave. and is open M-F 9 AM–3 PM.
Read More on Seniors
Volume 6, Issue 7, Posted 9:23 PM, 04.06.2010