300 Daffodils Planted on Lakeland Ave.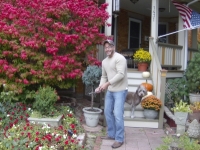 The Lakeland Avenue Block Club recently completed a street beautification project. Lakeland neighbors planted over 300 mixed daffodil bulbs in their front yards for all to enjoy next spring.
Bulbs were purchased in bulk with a minimum contribution by the participating neighbors. Petitti Garden Center also graciously provided additional daffodil bulbs to the project.
So, next April, make sure to include Lakeland Avenue (between Detroit Ave. and Hilliard Ave.) on your spring walk.
The Lakeland Avenue Block Club is co-chaired by Mara Manke and Carol Mason.
The Lakeland Daffodil Project was co-ordinated by Kim Langley and Joan Tropf.
Read More on Block Party Beat
Volume 5, Issue 22, Posted 8:44 AM, 11.04.2009