Helping to Preserve Legacies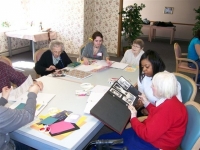 By Rachel Harwood
On Monday, March 2, 2009, participants of the Cleveland Federal CommunityLeadership Institute, a leadership training program for federal employeesadministered annually by the Cleveland Federal Executive Board; and studentsfrom Cleveland's Academy of Court Reporting and Technology, recorded theoral histories of 14 residents of Lakewood Senior Health Campus' assisted living faciltiy.
The seniors who participated in part one of this "Capturing Moments, Preserving Memories" event were then able to 'get creative' with students of the West Shore Vocational District's Child/Elder Care Program and Lakewood's Help to Others Volunteer Program through thecompilation of memory books on March 23, 2009.
These handmade volumes included excerpts from the interviews recorded on March 2, as well as personal photos and ephemera provided by the seniors and their families.The finished product serves as a written record of each senior's legacy tohis or her family. Lakewood's Help to Others Program hopes to repeat thisevent with other Lakewood seniors as part of its summer service camp formiddle school students.
Read More on Seniors
Volume 5, Issue 9, Posted 5:36 PM, 05.06.2009