Colin Teets Update 10/29/08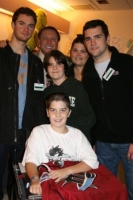 Wow, what a day! After therapy, lunch and a visit with "Aunt" Miki, Colin was given a BIG SURPRISE.
Mark "Munch" Bishop from WKNR radio, AM 850, came to the hospital to meet Colin with two Lake Erie Monsters, T.J. Galiardi, #39, and Tom Fritsche, #26, and Sarah Jamieson, Communications Manager for the Monsters. They presented him with a Monsters Jersey signed by ALL of the players.
I don't think Colin is capable of a bigger smile than he showed today. If he could talk, he would have been speechless.
To top it off, Munch talked about Colin during his broadcast, calling him a HERO. What a way to make a kid feel special. Thank you so much to everyone that helped to make this possible for Colin.
Colin was a little overwhelmed after the Monster visit and he was trying to mentally prepare himself to spend his first night without me at the hospital. So, I would like to apologize to some of the other visitors who came by tonight to see Colin. You didn't get to see him at his best.
After class at CSU I returned to the hospital. Tonight wouldn't be the night.
Read More on Colin Teets UpDate
Volume 0, Issue 0, Posted 10:21 PM, 10.30.2008