Nine Princess Warriors Battle Their Way To Vegas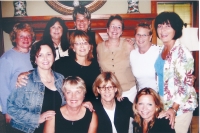 Nine Princess Warriors are going to Vegas! They won their league. They won the State Championship. They won the regional qualifier against Michigan, Indiana & Wisconsin and now they are going to Vegas, Baby, for the Unisted States Tennis Association Nation Championship!

This Senior Women's 3.0 tennis team, based out of River Oaks Raquet Club in Rocky River, will be heading to Las Vegas over Halloween weekend. These ladies are good and they have a lot of fun on and off the court. Off the court, they are business women, teachers and administrators.

Professional, cultured and civilized, these demure and classy women bring style and elegance wherever they go. Then they change into their tennis gear!
For their matches, they have taken on the personae of mythical warrior princesses. Jekyll and Hyde have nothing on them.
We have:
Kay Hinderlaiter, a.k.a. Zelda
Kaatje Van Breda Kolff, a.k.a. Sheena
Joan Hoty a.k.a. Bojana
Sarah Cohan a.k.a. Svanhild
Patty Jo Krivosh a.k.a. Tilda
Mary Beth Gifford a.k.a. Bellicose
Bridget Kilbane a.k.a. Vigdis
Sue Ohlemacher a.k.a. Madde
Linda Stekelenburg a.k.a. Xena

Three more matches stand between these ladies and the National Championship.
Good Luck Princesses!
Read More on Notices
Volume 4, Issue 22, Posted 2:33 PM, 10.23.2008