Colin Teets Update 10/18/08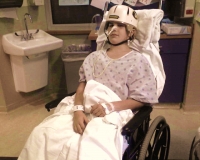 Colin had a rough Saturday night into early Sunday morning. He was battling some gastrointestinal issues. It must be the steak and potatoes they are serving himJ
Colin has made some great strides. Today he got to sit in a wheelchair. Dawn and I rolled him through the halls of the hospital showing him where he has been the last week. He especially enjoyed the waiting room with the great view of the skyline of Cleveland. The nurse said that he did wonderful and that sitting up for longer periods of time will help his lungs.
While we were in the waiting room we spoke with Colin, asking questions and making jokes. In response to one of our questions Colin answered with a fairly clear "NO". We were excited and Colin had a great big grin on his face. AWESOME…
Part of Colin's breathing therapy is trying to blow bubbles. The purpose of this activity is to expand the lungs and prevent pneumonia. He's been doing this every hour or so, and finally he produced a small bubble.
Watching TV, as you might guess, is how Colin passes much of his time. He is actually turning the television on and changing the channels to his liking. We have chosen movies from the PICU library and we are bringing different ones in for him to enjoy. Dawn is reading a book to him, and he seems to enjoy the story. When Dawn asks if he wants more the "thumbs-up" sign appears on Colin's hand.
Read More on Colin Teets UpDate
Volume 0, Issue 0, Posted 8:41 PM, 10.19.2008