Barton Center's Volunteer of the Year: Ursula Randolph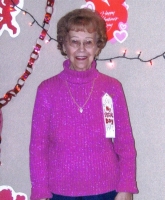 Ursula Randolph was voted by Barton Center members as the 2008 Barton Center 'Sweetheart', or Volunteer of the Year. She was honored at a dinner held recently to recognize her 19 years of volunteer service at Barton Community Center. This was the 34th annual ceremony held to recognize Barton Center volunteers and was attended by more than 100 members, including 12 previous award winners.
Ursula was born in Berlin, Germany and survived the Russian onslaught at the end of World War II. While working for the American occupation troops, she met her future husband and he brought her back to his Cleveland home. Ursula then worked for the City of Cleveland in the computer department for 27 years. After retirement, she lived in Florida for ten years, but returned to be closer to friends. In 1989, she moved to the Westerly Apartments, due to the convenient location and wide range of activities. Once in the Westerly, Ursula immediately joined Barton Center to keep active and make new friends. Her first volunteer position was as Transportation Greeter, arranging rides for members throughout Lakewood in the Barton Center car. While continuing to assist with this position ever since, she has also volunteered in many other areas in the Center: Corner Store, Food Service cashier, Hostess, Greeting Card coordinator, Crochet, Raffle Ticket seller and Gift coordinator. She says the job she enjoys the most is working in the Office where, for 13 years, she has served as bookkeeper and receptionist. On the nomination ballots, many of her peers commented on Ursula's cheerfulness, professionalism and her dedication to Barton Center. Ursula stated that "Barton Center keeps me young. We have fun all of the time." She also stated that she is "humbled to join the distinctive list of volunteers who have been honored with this award" annually since 1974. Ursula does not intend to rest on her laurels, but plans to remain an active Barton Center participant and volunteer in the future.
Ursula invites everyone to visit the Barton Center with its various shops, including: Hodge Podge furniture and resale shop, Greenhouse, Ceramic Shop, Corner Store and Book Nook. Membership in the Barton Center is available to anyone age 55 or over for $15 per year. To find our more about Ohio's oldest senior center or to volunteer, call the Barton Center office at 216-221-3400. Barton Center is located on the Ground Floor of the Westerly Apartments at 14300 Detroit Ave. and is open M-F 9 AM–3 PM.
Read More on Seniors
Volume 4, Issue 8, Posted 10:00 AM, 04.07.2008