Barton Center Volunteer of the Year Honored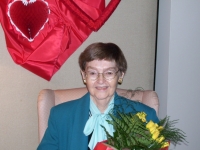 Laurie Schaffer was voted by Barton Center members as the 2007 Barton Center "Sweetheart" for her extraordinary volunteer work. She was honored at a dinner held on February 22 to recognize her 15 years of service at Barton Community Center. The 33rd annual ceremony held to recognize Barton Center volunteers was attended by more than 100 members, including 15 previous award winners.
Schaffer moved to Lakewood 15 years ago, after living most of her life in Shaker Heights and having a 32 year career at S.C. Johnson. She immediately became involved at Barton Center and served as Coordinator of the Membership Committee, a position she held for eight years. Six years ago, Schaffer helped to organize a new resale shop for books and has served as the Coordinator of the Book Nook resale store ever since. Laurie's extensive interests in travel, theater, music and literature have made her job running the Book Nook a perfect match.
On the nomination ballots, many of her peers commented on Laurie's cheerfulness while working with people, her helpfulness when assisting customers and her dedication to Barton Center. Schaffer is "very proud to join the distinctive list of volunteers who have been honored with this award" annually since 1974.
Schaffer has been a volunteer all her life, including extensive involvement with a food pantry, church, a state trade association, YMCA and OASIS. "Volunteering has brought people into my life who I otherwise would not have met," Schaffer said. After living for many years at the Castlewood, she moved to the Westerly Apartments to take advantage of the transportation and food services, as well as the shops, programs and social activities offered by the Barton Community Center.
Laurie invites everyone to visit the Book Nook, located on the Ground Floor of the Westerly Apartments, open from 9 a.m.–3 p.m. on Tuesdays and Thursdays. Book Nook sells hardback, paperback and coffee-table books, video tapes, CDs and DVDs. Other Barton Center stores include the Hodge Podge furniture and resale shop, Greenhouse, Ceramic Shop and Corner Store.
Membership in the Barton Community Center is available to individuals who are at least 55 for only $15 per year. To find out more about Ohio's oldest senior center, or to volunteer, call the Barton Center office at (216) 221-3400. Barton Center is located on the Ground Floor of the Westerly Apartments at 14300 Detroit Ave. and is open from 9 a.m.–3 p.m. on weekdays.
Read More on Seniors
Volume 3, Issue 5, Posted