Brigid Balogh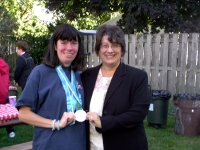 Brigid Balogh once again does Lakewood proud. As one of 3 Speed Roller Skaters chosen to represent the United States in the Special Olympics Summer World Games held in Shanghai, China this October, Brigid won the Silver Medal and two fourth-place medals.
Brigid is not new to medal winning having taken a Gold, Silver, and Bronze in the 2003 Special Olympics Summer World Games in Ireland. Brigid also placed 4th in the World for Figure Skating in the Special Olympic Winter Games in Alaska in 2001.
Always an athlete, Brigid has been figure skating since the age of 9 in additon to playing T-ball, gymnastics, bowling, karate, in-line skating, and Irish dancing. Seven years ago she started speed roller skating at Brookpark's Skateland. To qualify for Shanghai, Brigid took home a Gold at the Ohio Games.
The new Lakewood "Y" is to be commended for providing Brigid with 2 personal trainers to help her get into top form for the World Games.
Brigid, a life-long resident of Lakewood, stays active to say the least. Along with her job at Marc's in Rocky River, she is also a Lakewood CERT volunteer, helps feed the homeless at the Methodist Church on Wednesday nights and ushers at St. James church on Sunday morning. She was Student of the Year at Lakewood High in 2002, graduated in 2003, and switched on the Light-up Lakewood Christmas lights in 2003.
Brigid made new pen pals with some of the Chinese team and bonded with athletes from Australia and Hungary. She didn't mind the 22-hour plane ride to China as both planes were filled with Team USA Athletes - over 400 strong.
"China is huge - the cities and tons of people", says Brigid. She liked the family who hosted her in their home the best and the food the least, "They eat noodles and rice for breakfast".
Brigid's family has a great philosophy on life - "Give And You Will Get Back". Judging by the number of people who attended her welcome home celebration this past Saturday October 20th, this life lesson is working.
The theme for the Shanghai Games was "I know I can". Well Brigid, WE KNOW YOU CAN! Thank you for continuing to make Lakewood proud!
Read More on On Assignment
Volume 3, Issue 22, Posted 12:39 PM, 10.23.2007