Those Among Us: Robert Rice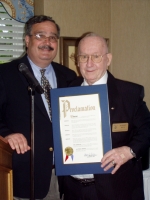 On Thursday, May 17th, at Harding Middle School, my dad, Robert Rice, was honored by being invited to return to conduct "The Harding March" that he wrote many years ago as the school prepares to relocate to the new building.
He was also honored by a Mayoral Proclamation from Lakewood Mayor Thomas George's office, recognizing his achievements over the years and naming the day "Robert Rice Day" in Lakewood. He also received Congressional recognition through Congressman Dennis Kucinich's office.
Dad, in turn, presented the present Harding Band Director, Mr. Brian Griebel, and the Harding Music Department with his original "electric baton" used for Harding finales.
Dad taught in Lakewood from 1958 to 1983. He was named a Lakewood Schools Staff Hall of Fame member in 1997.
Perhaps less well known was Dad's service in World War II. He served with the Chemical Warfare Service and with the 336th ASF band. Dad suffered from temporary blindness and respiratory distress while in the service, and still has breathing problems from time to time.
In spite of this, he pushed his difficulties aside in order to inspire generations of Lakewood students.
Thank you, Dad: For your service to your country, to your students, and to the writer of this column.
Read More on Seniors
Volume 3, Issue 11, Posted 2:51 PM, 05.17.2007