Late Night Kitchen Kapers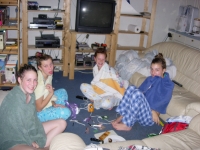 There was a time in my life, when I wouldn't have given so much as a shrug when contemplating food preparation in the wee hours. There were many late nights spent with friends during college making crepes at 2:00 am that seemed not only reasonable, but darn well appropriate. There were memorable Saturday nights during Law School, spent making a chocolate cake while watching SNL), or even the late night lesson in egg roll preparation. Like Dagwood Bumstead, there's just something appealing about a late night raid on the refrigerator. But, as age and waistline both increase, those late forays into culinary pursuits have decreased, in inverse proportion. Until, that is, the slumber parties begin.
We have always worked towards making our home one in which our children would feel comfortable entertaining their friends. In large part we have been successful in that effort. There have been any number of sleepovers, slumber parties, and occasional pre-homecoming dinners. There have been bonfires and birthday parties, sheet pizzas and Sunday morning waffles and blueberry pancakes. There have been any number of slumbering teenagers preventing me from accessing anything past the basement stairs. And it's been a largely positive experience. I actually like my kid's friends even as they have grown to be no longer kids. But nothing quite prepared me for my most recent foray into the late night kitchen.
Saturday was one of those laid back days, sort of the lull between Thanksgiving and Christmas. Our youngest, Tessa, was planning on a few friends to sleepover, and I had planned a quiet evening. A nice seafood dinner with my wife, a decent bottle of wine, a DVD, and call it a night. It was to be the usual group of suspects, Tessa, Paige, Cecily and Rachel. They were pretty much settled in; you could hear their chatter and giggles from downstairs. Tina had headed up to bed, and I was just closing up, turning off the lights, and letting Guinness out one more time. Then there was the noise and confusion from the kitchen. It was midnight, and I figured the girls were going to make a snack. So, I walked through the kitchen on my way to bed, just to make sure everything was under control, prior to turning in. What ensued was a unique and thoroughly inedible "cooking" lesson.
What I had expected was some inquiry about chocolate chips, or perhaps some other cookie ingredient. But instead, I was asked for a confusing conglomerate of ingredients. I had difficulty in determining how they might be used. Certainly, it was not any recipe I knew. "Yes, we have plain gelatin." "I just bought some avocados, though they're not ripe yet" "I think there's some molasses in with the baking supplies.......What exactly is it you guys are going to make?"
Well, as it turns out, where I would have been thinking of whipping up some cookies or a quesadilla these teenagers had different creations in mind. Their plans revolved around recipes for homemade beauty treatments. Facial masks with molasses and lemon. Hair conditioners with avocado or, for extra bounce, gelatin. Lemon and vinegar preparations for smooth shiny hair. And so, instead of hitting the hay, we had a cooking lesson. After demonstrating how to strip the zest off of a lemon, I showed the girls how the rocker on a chef's knife can finely chop the rind in no time. We learned how using a food processor by pulsing the motor could finely chop an avocado in preparation before adding the vinegar and gelatin. They learned the trick to removing the pit from that avocado and the most efficient way to peel it. There was a good deal of action in the kitchen, especially considering it was now well past 1:00 am. Having completed their preparations, they retired to the basement to undergo they're various beauty treatments, while I finally got to bed. Apparently all the efforts (and mess) in the kitchen paid off. I still heard the giggling as I drifted off to sleep.
I arose Sunday morning still tired. Guinness was pretty insistent that at 7 AM he needed to go out. I had my coffee, looked over the paper, made a few tentative stabs at the NY Times crossword. Realizing that soon Tessa and her guests would be rising, I turned my attention to breakfast. The kitchen still showed signs of our efforts a few hours earlier. Somehow, despite whatever else is learned in the kitchen, the cleaning up lesson is the last to take root. Before I could even consider breakfast preparation, it was necessary to clean up the aftermath of the beauty preparations. I cut up the pineapple, mixed some eggs and milk with a little vanilla and some cinnamon for French toast, and sliced the loaf of bread into thick slabs. I set the table, put out the juice, and put the bacon on a platter with the golden brown French toast. "Girls, Breakfast is on", I called down. And up they came, far more rested than I, faces aglow from beauty masks, hair shining and bouncing, smelling of lemon. Apparently, the late night culinary foray had been a success. I went back to bed.
Recipe:
Egg and Avocado Facial Mask
Ingredients:
juice of 1/2 lemon
1 egg white, beaten into soft peaks
one ripe avocado, mashed
Combine all the ingredients. Working in pairs, spread the goo all over the face of your partner. (Extensive giggling is important here, as it helps to smooth out the frown lines).
Allow the mask to set for 1) ten minutes or 2) whenever it drips from your face, a la Mrs. Doubtfire, whichever comes first.
Wash off the remaining mask with warm water. It is not necessary to rinse the sink or wash the towel upon completion. Someone else will take care of that for you.
Read More on Chef Geoff
Volume 3, Issue 1, Posted 12:12 AM, 01.03.07