"Miracle Dog" Needs a Home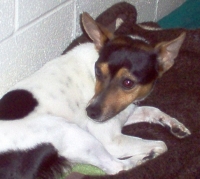 As we all know, winter in Lakewood has been especially brutal recently.. The cold temperatures are especially tough on homeless animals, including one little dog that was recently saved by Lakewood's Animal Control officers. The brave little dog, known as Punchy, is now in need of a loving home.
Punchy was found cowering in a garage on Chesterland Avenue on January 24th. The temperature was freezing when Animal Control Officer Mike Stewart rescued him. The little dog, which weighed under ten pounds, looked awful. He was severely dehydrated and had frostbite on both ears. He was taken immediately to Lakewood Animal
Hospital, where his body temperature was too low to even register on the thermometer. They gave him fluids and put him on medication.
After spending a night in the hospital, he arrived at the Lakewood Animal Shelter. "When we got him here to the shelter he was feeling so bad that we wrapped him up in blankets" said Shelter Supervisor Elaine Hearn, "we took turns holding him and
getting him used to being touched."
Punchy has recovered and was won over by the persistent shelter staff and volunteers. "He started out flinching every time we touched him but now he loves to be held". Now that Punchy is feeling better, it is time for him to start a new chapter in life. He is available for adoption from the Lakewood Animal Shelter. He is 2-3 years old and gets along with other dogs and cats. If you are interested in adopting Punchy, call the Lakewood Animal Shelter at 216-529-5020. For more information on the Lakewood Animal Shelter, visit the CCLAS website at cclas.org
Read More on Flora and Fauna
Volume 3, Issue 3, Posted 1:01 AM, 02.02.07