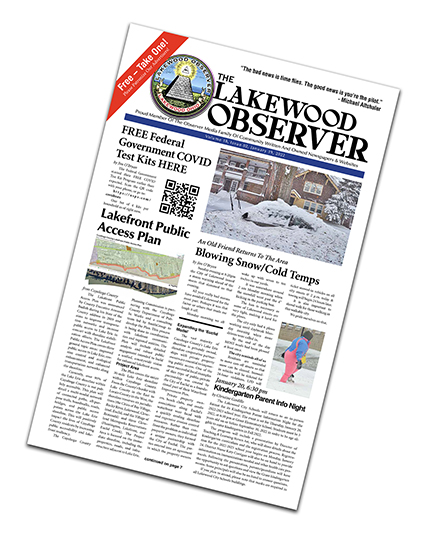 Here we are, already the second issue of 2022.
In this issue we take at look at one of my favorite award shows, The Scholastic Awards. This age old tradition inspires the young to send in all forms of art, and be awarded accolades on a local, then state than nation level. Lakewood students have always loved and excelled at this event and this year, they rocked it to the foundations.
Speaking of Lakewood Schools, we have the message for 2022 from Board of Education President Betsy Shaugnessy. There is an update on Marine Towers, music reviews, and so much more.
We also take one last look at the winners of the holiday competition with photos of those responsible and the streets where they live. It was a good year, thank you to everyone. Especially thanks to Woodstock BBQ, India Garden, Root Cafe and West End Tavern for their continued support in our fun contests.
You can pick up the latest Observer at over 100 locations around town,

OR,

Download it here:
http://media.lakewoodobserver.com/issue_pdfs/Observer_Vol_18_Issue_02.pdf