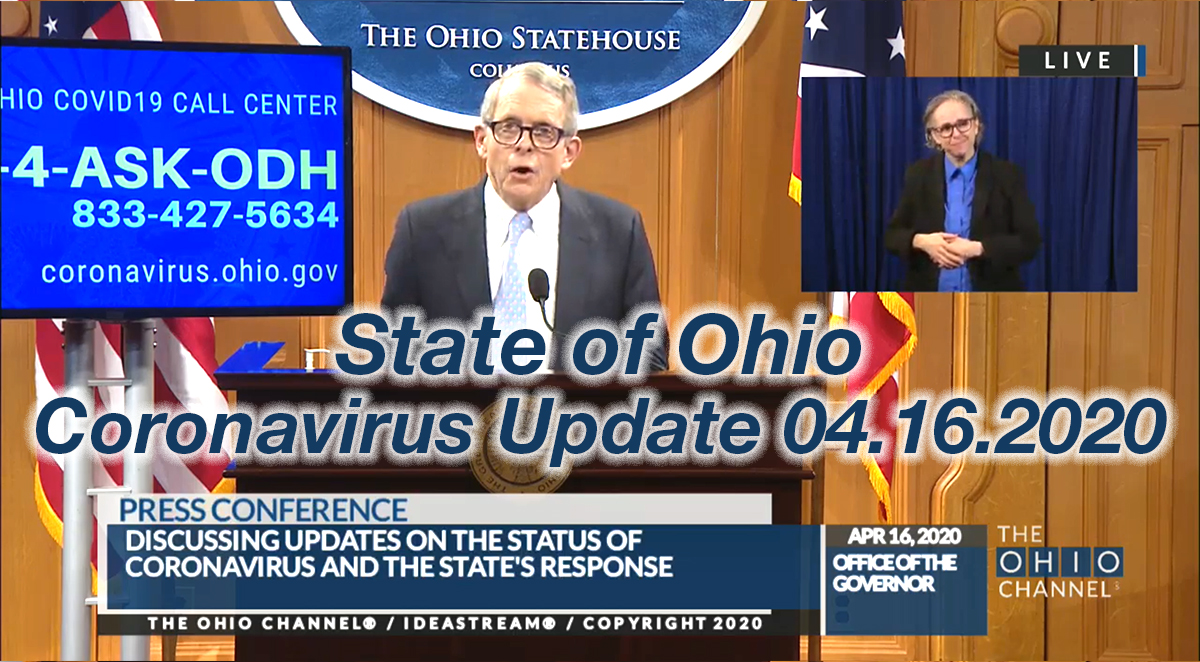 Where we are today…
COVID-19 By the Numbers

United States
3,345,741 -
Total Tested
667,572 -
Total Number of Cases ↑ 19,424 (2.99%)
33,903 -
Total Number of Deaths ↑ 1,315 (4.03%)
Ohio
8,239 -
Confirmed Cases
175 -
CDC Expanded Case Definition (Probable)
8,414 -
Total Cases
2,331 -
Number of Hospitalizations in Ohio
707 -
Number of ICU Admissions
373 -
Confirmed Deaths
16 -
CDC Expanded Death Definition (Probable)
389 -
Total Deaths
Gov. Mike DeWine
Winston Churchill "This is not the end. It is not even the beginning of the end. But perhaps it is the end of the begining."
Essential Facts of where we are.
1) Ohioans have done a great job at distancing. Gov. Has never been prouder.
2) We have flattened the curve. We still do not have real data
3) We live in a state in a country with COVID-19, and that will not change until we have a vaccine. 6 months-2 years.
4) This period of time will not last forever. At least for a period of time.
5) We must get Ohio's economy moving again. We have to get back to work.
We must start back up correctly We do not want a huge spike and have to do this all over again.
Gov Board of Economic Advisors - CEOs from companies in Ohio
Today the Gov. Was given a glimpse at a work win progress from them. No plan will guarantee people will not get it. Companies that have been allowed to continue have put in place protocols to work around the virus safely. Well as safe as can be done in a work environment.
Proper PPE for all and stock.
Screen everyone coming in for health.
Demand good hygiene
Ass employees with public transportation
Mandatory masks,
And on and on and on
Ohio is looking to begin this process on May 1, just like President Trump has asked for. Regardless
We have put together lists of companies that we believe can start back to work. Life will be different and the workplace will change. But we have to get back to work.
We are entering a time of a new reality. This could last until there is a vaccine. Masks everywhere.
As we start back in, people are going to have to make their best decisions. They are on their own.
People with conditions are much more at risk than others.
As we enter this new period we are asking our young people to be responsible.
We are going to follow the facts. (Not really testing any longer)
We hope to start going down, we certainly do not want to go back up.
Testing capacity "I am an optimist I hope it goes, up, I know it will go up. Well it should go up."
"I promise to bring the economy back. That is our commitment to you."
"No place is totally safe."
"Keep flying out flag, US or Ohio"
Dr. Amy Acton
"It has been the honor of my lifetime to work alongside the Governor."
Keep washing your hands.
.