A standing room only crowd filled the Beck Center from the beginning. I mentioned to Scott
Spence one of my favorite people at the Beck Center about the crowded lot, and he
mentioned "It's the first night of classes and would normally be packed." I always tend to
forget just how students the Beck Center has.
The meeting was pretty much one would suspect with the members of the various groups
involved in the decision explain how much care went into the decision. Nothing new was
being talked about and the Mayor continued to talk about the sale of property in this deal
as something other than us liquidating our own assets for tax revenue.
Ken Haber who has the distinction of being on the Lakewood Hospital Foundation, and the
Hospital Board spoke about how they worked together to get a decision and briefly touched
on "a new 21 person XXXXXXX Board." To figure out the best way to handle the money that
in actuality belongs to the city. That the Clinic would have 3 members from the Clinic, and
they have not figure out the rest or what to do with the money.
The Clinic representatives touched on the future of healthcare, and how this new state
of the art facility would handle all needs until 2026 and beyond.
Actual presentation and slides to be posted later.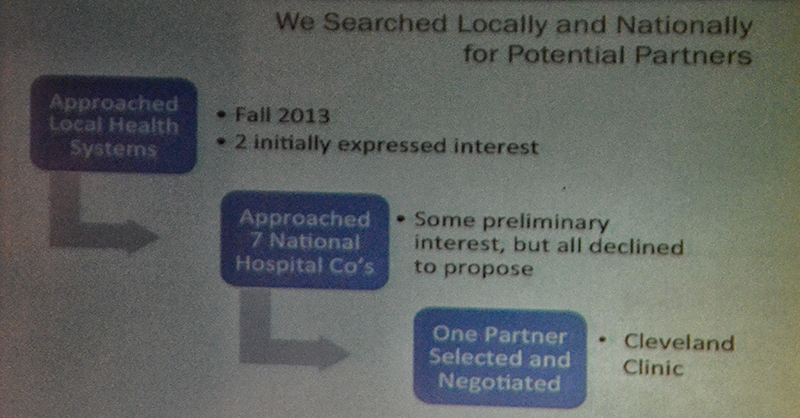 So the City starts the process and two year later ends up with same dance partner, 1,108
less jobs, massive negative impact on shops and city, but room for something like a rec
center?
During the lengthy question and answer period may good questions were asked, but
perhaps the most important asked by Bill Grulich when he asked the Clininc, "How much
wiggle room is in the 90 day limit on the offer?" They made a pat answer that it was put
in only to keep this discussion moving along, and was not etched in stone.
Ryan Salo got the house going when he asked, Tom Gable of the Hospital Board, "Do you
expect us to believe that closing of Lakewood Hospital and the opening of the Avon Hospital
is just a coincidence?" Tom answered "Yes." and the place erupted in cat calls and
laughter for a brief moment.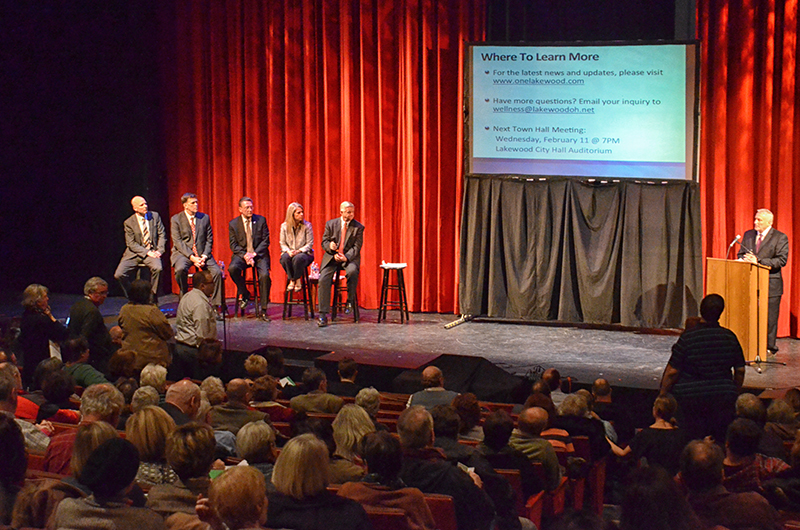 Ryan Salo asking Mayor Summers a question.
Another moment was when they described how studies showed why the Clinic needed to
open Avon Hospital, and the answer was community needed one. One some yelled from
the audience "so do we." and everyone cheered.
For the most part the audience was well behaved, and Mayor did a fair job working the
room for questions.
I am sure Ryan can add more, and I will ad more after looking at the pics and videos.
One thing I know, we need to make sure this is well thought out. Though personally I
would rather see the money go to the City of Lakewood, be available through this board,
or another vehicle and approved by City Council.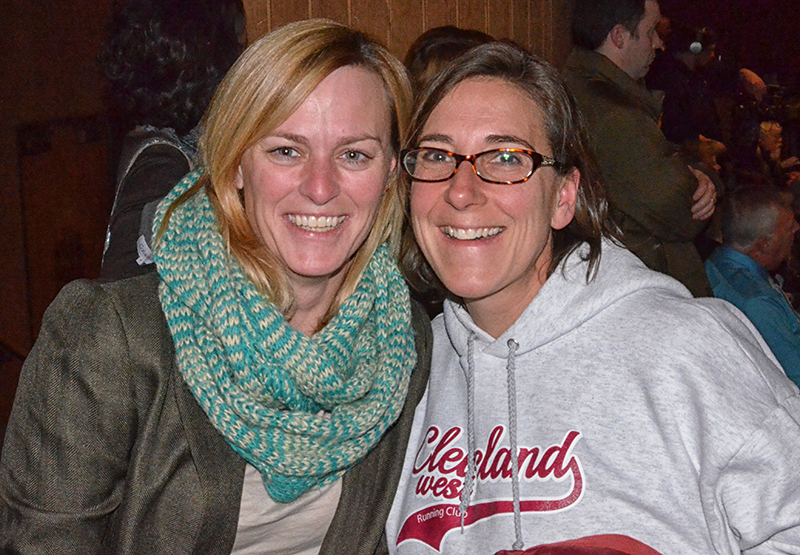 Heidi Finiff and Christine Cowen looking fabulous!
Stay tuned....
.