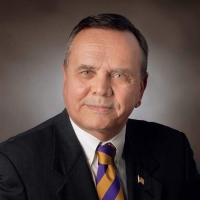 I have had the honor of being a member of the Lakewood Board of Education for many years and have been re-elected by fellow Lakewoodites several times. My life of public service began with the military when I served in the Army National Guard. I served 37+ years on the Lakewood Police Department and have been a consistent advocate for school safety. As a police officer, I saw firsthand kids in difficult situations and developed an appreciation for how the schools are invaluable and needed in their futures.
Lakewood is a diverse community and we have students from all backgrounds. Our kids speak over 30 languages and are literally from all over the world. I've been a supporter of the LGBQT community since the early days of the gay rights movement when I was a police liaison the community could trust to report crimes and being victimized. We have very advanced and very challenged students and everything in between. We are not selective and educate and serve all.
My wife, Gladys, and I have lived in Lakewood for 46 years and raised 4 children here, all graduates of Lakewood City Schools. We have been involved in various support groups and commissions. I was President of the Athletic Boosters, during which time it was incorporated. Following levy failures, we obtained a license and ran bingo to lower the pay-to-participate rates.
Read Full Story
Volume 17, Issue 21, Posted 1:25 PM, 10.20.2021