Trash Tips For The Holidays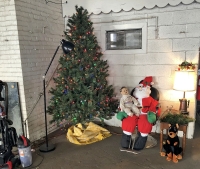 HOLIDAY REFUSE AND RECYCLING TIPS FOR LAKEWOOD RESIDENTS
1.) The Lakewood Refuse Department will be closed on Monday 12/27 and Monday 1/3.
2.) Residential pick-up will resume on Tuesday 12/28 and 1/4. Carts and bulk trash should be out on your regular scheduled pick-up day.
3.) When at all possible all cardboard should be broken-down and placed in the recycle cart. Excess cardboard must be tied or boxed for easy pick-up and to prevent littering the street.
4.) Non-glitter and non-foil wrapping paper and the cardboard rolls they come with ARE recyclable.
5.)ALL styrofoam is GARBAGE. If you place a TV box on the tree lawn and it contains styrofoam, it will be taken as garbage.
6.) Christmas trees must be free of lights and not enclosed in plastic bags so they can be recycled.
7.) Please place your trash and recycle carts away from trees and parked cars so the automated truck arms can reach them.
8.) On the side of the street where cars are parked, place your carts in the street on both sides of your driveway. (That way no car can obstruct the automated collection process.)
9.) If your cart is not full, please wait till the next week to bring to tree lawn. The Refuse department is quite taxed with the immense increase in holiday trash and recycling.
10.) This late in the season, all yard waste is trash.
11.) As a common courtesy to your fellow Lakewood residents, PLEASE do not place trash on the tree lawn before 6:30pm on the day before your scheduled pick-up day. Let's keep our Lakewood streets beautiful.
12.) The hard working men and women of the Lakewood Refuse and Recycling Department most appreciate the good residents of Lakewood who follow the guidelines. Happy/Healthy Holidays.
Denis DeVito
Publisher, Lakewood Observer, Inc.
Read More on City
Volume 17, Issue 24, Posted 2:26 PM, 12.15.2021