Shop + Eat + Unwind LKWD Event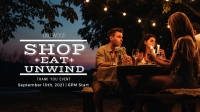 We know that many in our community have been affected by the pandemic this year, including small businesses like retailers and eateries. While some were able to modify hours of service and decrease staff in order to stay open, others were forced to close temporarily. Some permanently. Despite the hardships all around, Lakewood residents have truly embodied eat local, shop local. And for that we are grateful.
As a THANK YOU for your continued support of the local fare in our town, please join us between 16000 – 19000 block of Detroit Avenue for an evening filled with shopping, dining and plenty of unwinding. On Friday, September 10th, 2021, merchants on the western half of Detroit Avenue will be extending their store hours and have joined up with neighboring eateries to offer $5 off your purchases beginning at 6pm. Simply present your receipt of purchase from one of the participating locations (see below) and enjoy this sweet reward.
All the Joy, Burning River Coffee, Cleveland Vape, Cleveland Vegan, CouCou Sentiment, The Designer Consignor, Eclectic Cleveland, GV Art + Design, Lakewood Antique Mall, Milo & Me, Sacred Hour Wellness Spa, Simply Sugar & Skincare … and more!
Bring your family and friends and be sure to stop into your favorite shops and restaurants… Or explore!
For more information regarding participating locations and discount details, check out our Facebook and Instagram @ShopEatUnwindLKWD and don't forget to follow for updates.
See you then!
Danielle and her husband are Lakewood residents who recently opened a retail shop in town.
Danielle Zann
My husband and I are Lakewood residents who recently opened a retail shop in town.
Read More on Other
Volume 17, Issue 17, Posted 2:41 PM, 09.01.2021