Rader And Rodriguez-Carbone: Let's Vote For Progress Together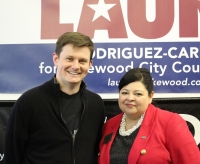 Finding ways to work together is what we know will make Lakewood a better place, and as candidates for City Council, we want to express our commitment to a shared, inclusive vision.

Councilperson Tristan Rader has helped make local government more transparent through a reformed public records policy, and taken initiative on affordable housing, and renewable energy.

Laura Rodriguez-Carbone has been a community leader throughout her life, serving on the Federal Covid Response team, as co-chair of Lakewood's Anti-Racism Task Force, and as chair of the Ohio Democratic Party's Hispanic and Latino Caucus.

On Sept. 14, we hope you will vote to re-elect Tristan Rader, and vote for Laura Rodriguez-Carbone, who would be the first person of color elected to office in Lakewood's history.


Matt Kuhns
Matt Kuhns is a freelance graphic designer, and occasional author.
Read More on Other
Volume 17, Issue 17, Posted 2:41 PM, 09.01.2021