Don't Miss Marching Band Festival Sept. 18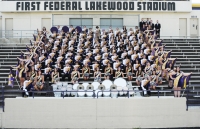 Weeks before most students headed back to school this year, members of The Lakewood Ranger Marching Band were hard at work preparing music and choreography for not only the fall football season, but also their highlight performance event, the 34th Annual Lakewood High School Marching Band Festival, set for Saturday, September 18 at First Federal Lakewood Stadium.
This event, the band's biggest fundraiser of the year, kicks off with the Parade of Bands at 6 pm, followed at 6:30 pm by on-field performances by 10 of the best Northeast Ohio marching bands! This year, the Ranger Marching Band, led by director Clinton Steinbrunner and assistant director John Blasko, will be joined at the festival by bands from Aurora, Beachwood, Bellevue, Brush, Eastlake North, Lake, Olmsted Falls, Strongsville, and Wickliffe. And of course, the Lakewood Ranger Marching Band will be performing joined by members from the alumni marching band!
Tickets can be purchased online at https://sites.google.com/lakewoodcityschools.org/lhsbands.
Online ticket prices are: $9 for adults, $7 for seniors, $4 for older students, and free for children 12 and under. Tickets can be purchased with cash at the gate, for $10 for adults, $8 for seniors, $5 for older students, and free for children 12 and under.
Please come out and show your support for this community treasure! It's a fun event for the whole family! There will be concessions and a chance to win cash in the 50/50 raffle.
Read More on Schools
Volume 17, Issue 17, Posted 2:41 PM, 09.01.2021