Hospice Of The Western Reserve's Palliative Care Program Receives $150,000 Grant From Three Arches Foundation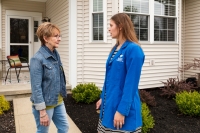 Three Arches Foundation has awarded Hospice of the Western Reserve a $150,000 grant (over two years) to support its Western Reserve Navigator (WRN) in-home palliative care program in Lakewood and surrounding areas. WRN is a comprehensive non-hospice program that supports people with advanced, serious illnesses as their health declines. A dedicated team of caregivers develops and implements a customized plan of palliative care to address the physical, functional, emotional and spiritual needs of each patient and their caregivers.

The community-based program is not fully funded by Medicare or commercial insurance and is grateful for philanthropic funding.
Three Arches Foundation (threearchesfoundation.org) is a 501(c)(3) public charity that invests in advancing the health and well-being of the people of Lakewood and surrounding communities through grant making. The Hospice of the Western Reserve grant is part of $1.5 million awarded this year to 20 Northeast Ohio nonprofits for their work in addressing solutions that make it easier for people to navigate, understand and use information and services to take care of their behavioral and physical health.

"We are extremely grateful to the Three Arches Foundation for supporting the vital role of palliative care in improving the quality of life for seniors with advanced illnesses," said Joan Hanson, RN, director of Western Reserve Navigator. "Our team-based approach combines home visits from advanced practice registered nurses and social workers with 24/7 phone access to nursing staff. Trained volunteers serve as a 'second set of eyes and ears' for the team and provide spiritual support and companionship between visits. The program fosters greater independence among seniors and prevents repeated hospitalizations."

Patients keep their own doctors and can continue to receive curative treatments such as chemotherapy and radiation. The WRN team collaborates with patient, the family caregivers and the patient's physicians on a plan of care that provides an extra layer of support. The social worker communicates with insurance companies or the Veterans Administration about benefits, helps access community services and assists patients in identifying and documenting their longer-range healthcare wishes and advanced care plans.

More information about the Western Reserve Navigator program is available at hospicewr.org, or by calling 216.383.3700.


Laurie Henrichsen
Laurie Henrichsen is Public/Media Relations Manager, Hospice of the Western Reserve.
Read More on Non-Profit
Volume 17, Issue 2, Posted 3:04 PM, 03.17.2021