Harding Club Lends Hand To Senior Shoppers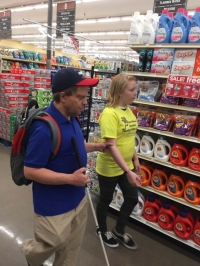 Nearly 10 years ago as a teacher at Garfield Middle School, Pam Thompson saw a need for bringing together girls outside the classroom to form a group that could encourage and support each other during the often difficult middle school years. She wanted a group where the girls could form strong bonds and a sense of belonging. That group became the Margaret Warner Ladies Luncheon Club thanks to a Margaret Warner Educational Grant from the Lakewood Rangers Education Foundation and is in its third iteration at Harding.
Beyond the relationship building within the group, Thompson strived to share experiences with the girls outside of their school community with trips to local colleges and museums. She also added a service component where the girls helped senior citizens and people with disabilities with shopping at Giant Eagle twice a month after school. The club has since survived two building moves for Thompson and is now thriving at Harding Middle School as the Margaret Warner Volunteers.
"I believe the club is so important for all girls, but in particular the middle school age, as that is when students are trying to come to terms with the oftentimes challenging phase of growing from childhood to adolescence and how to 'fit in' within their peer group without compromising their integrity," Thompson said about the club.
Besides the Giant Eagle aspect, the club also participates in after school get togethers where the girls create dream books. The books are similar to scrapbooks where the girls place photos from club activities and images clipped from magazines to promote goal setting - future college, career, house, etc.
Thompson strives to promote an encouraging environment for girls to develop a strong positive self-image and learn successful peer and community interactions. The formula is working.
"The most important part is that we get to know the shoppers and they get to know us," said seventh-grade club member Natalie Goncalves. "This is part of the reason Margaret Warner means so much to me, because of the relationships and intriguing conversations we have with our shoppers and our fellow volunteers. How I see it, Margaret Warner is a club created to help our elderly shoppers while also helping ourselves through the experiences of meeting new people and becoming a part of something in the school and in our community. "
Adds seventh-grader Roselyn Graulich: "It's a great way to make new friends in school and also with older people. It feels good to know you are helping someone that needs it."
Read More on Schools
Volume 16, Issue 5, Posted 10:32 AM, 03.04.2020