The Rockport Miracles - Part 4: Episode 21: "The Ballad Of Derecho Dan" Continues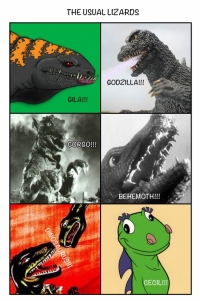 "The Giant Lizard's roar is your signal to take action. When you hear it, take this boat out onto the fetid waters of Lake Erie and stick it straight up the Lizard's ass!" (Excerpt dated 7/4/75 from Maynard Gridley's "Manifesto With Cheese.")
Little Dan was taken aback as he sat on the deck of Maynard's boat named "The Friggin' A." He couldn't comprehend the malice that lurked in the heart of Maynard Gridley. After all, Maynard was just a fella from Parma, Ohio. His biggest accomplishment in life was to drink 50 bottles of Stroh's in less than one hour.
Yes, it was true that Maynard had been banned from the Yucatan Peninsula for life. South Dakota was sure happy to see his backside. Then there was that harrowing incident outside Taos, New Mexico. Apache elders had discovered Maynard trespassing atop a sacred mesa and smoking peyote. He was lucky to crawl away from that scuffle but, not before the face of Geronimo had been branded onto one of his butt cheeks.
It's all true! Maynard was hellion. Maynard was a rambunctious hooligan, a rebel, a prankster, and a glorious heathen. But, Maynard Gridley was NOT a mad bomber. That's not how he was raised, although Rowena must have known her son was up to something. There were enough explosives on that boat to take out a hundred giant lizards.
And, just who was this "lizard"? Nowhere in his rambling, wine-stained "Manifesto with Cheese" did Maynard mention which "Giant Lizard" he was referring to. Was it Gorgo? Giant Behemoth? The Giant Gila Monster? Dinosaurus? Or, perhaps he meant the Babe Ruth of giant lizards, Monster Zero-One himself...GODZILLA!
Little Dan remembered that he was five when he saw Gorgo at the Detroit Theatre. He'd been a Gorgo fan ever since. He favored Gorgo because his ears were distinctive and downright cute when compared to the other giant lizards. His head looked like a UHF antenna. "A little too cute for a guy like Maynard," whispered Little Dan. He concluded that Godzilla was the monster in Maynard's manifesto.
Meanwhile, back in Rockport at the scene of the Gas & Lube explosion, Fire Chief Ned Nicholson had made an incredible discovery. When the gas station exploded, hundreds of used tires, many on fire, were blown into the neighborhoods. One of the tires had been snagged in the branches of a large oak tree. When Chief Ned climbed the Hook & Ladder to retrieve it, he was greeted with the colorful face of Lester Brown's lost (and feared dead) cockatiel, named "Kodachrome."
When the Fire Chief peered inside the tire he couldn't believe his eyes. "OH MY GOD!! I CAN'T BELIEVE MY EYES," he screamed, "IT'S A MIRACLE!!" Clutching the used tire like it was made of money, he ordered the hook and ladder operator to fire up the engine and get the heck out of there. "Where to?" shouted the driver. "I'LL TELL YOU ON THE WAY--GET MOVING!!" blared the Chief.
Firemen on scene reunited the little bird with its ecstatic owner, Lester Brown. Lester runs the Rockport Camera Shop. With the plucky cockatiel balanced on his finger, the joyful Lester twirled like a dervish and sang, "I Feel Pretty," the bird's favorite song from "West Side Story."
The sound of Lester's singing had an unintended and beguiling effect on his traumatized neighbors. They gathered around him and joined in an impromptu, "Sing-Along With Lester." Kids, dogs, seniors, and everyday people along 150th Street danced and sang. Music, as always, worked like a tonic and helped them forget their troubles for a few minutes. Unfortunately, the revelry grew so intense that it freaked out the cockatiel and he flew away…never to be seen again!
With lights and sirens blazing, the Hook and Ladder truck rushed through the streets of Rockport. Seizing the radio microphone like a hunk of cheese, Fire Chief Nicholson placed an urgent radio message to Police Chief Tom Graber. "Tom," said the Fire Chief, "we've got a way to bring in Little Dan Newman...VOLUNTARILY!! Meet me at the Rockport Animal Hospital in TEN MINUTES!!"
Read More on The Rockport Miracles
Volume 16, Issue 3, Posted 4:31 PM, 02.05.2020