Sherrod Brown Visits Lakewood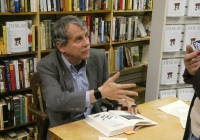 Senator Sherrod Brown recently visited the Bookshop in Lakewood to sign copies of his book, "Desk 88: Eight Progressive Senators Who Changed America." More than 100 people attended the event, with the line to meet the senator stretching out the door at one point.
Matt Kuhns
Matt Kuhns is a freelance graphic designer, and occasional author.
Read More on Business News
Volume 16, Issue 1, Posted 2:29 PM, 01.08.2020