Meet The Author: Nicole Hennessy And The Poetry Of "Gypsy Queen"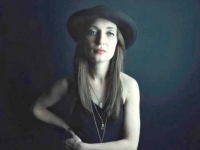 Nicole Hennessy writes with a passion. As a journalist and poet, she has written for many local and national publications, co-founded the bimonthly art and literary magazine "Miser," published the nonfiction book "Black Rabbit" and belongs to a community of poets actively creating and sharing their work in Cleveland.
Her latest effort is a stunning collection of poetry in the 2019 release, "Gypsy Queen." Nicole is visiting Lakewood Public Library on Thursday, December 12, 2019 at 7:00 p.m. to discuss the book as part of our Meet The Author series.
Poem by poem, the themes in "Gypsy Queen" keep building, the voice becomes stronger, more recognizable – like someone you're getting to know. Along with each interaction between reader and poet comes a deeper reflection, as in "Above the Fold:"
"Always hand someone a buck.
Always stop to look them in the eye,
Because it could be you;"
Cleveland readers will recognize the familiar settings, the changing weather and the local references throughout Hennessy's engaging free-verse. "Sometimes the Sun" gives an example:
"Jim Lowell lives
In the Cuyahoga River
I swear
I've seen him
Swimming"
There is much more to explore in the poetic world of local writer Nicole Hennessy. This special Meet The Author program will be held in the Main Lower Level Auditorium where books will be available for sale and signing.
Read More on Library
Volume 15, Issue 23, Posted 12:41 PM, 12.04.2019