Lakewood To Host Small Business Weekend November 29 - December 1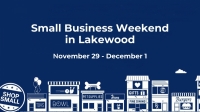 Small businesses serve as the lifeblood of our community, ensuring our neighborhoods remain vibrant and our local economy remains strong. Here's your chance to celebrate the many wonderful small businesses in our city.
The Downtown Lakewood Business Alliance (DLBA), a merchant association of LakewoodAlive, and the Lakewood Chamber of Commerce announce Small Business Weekend in Lakewood, taking place Friday, November 29 through Sunday, December 1. Throughout this holiday weekend, shoppers can enjoy special offers and sales at small businesses throughout Lakewood's commercial districts. Visit LakewoodAlive.org/ShopLocal to learn more.
Small Business Weekend in Lakewood coincides with Small Business Saturday, a nationally-recognized day to celebrate and support small businesses and all they do for their communities. Shoppers are encouraged to visit the Small Business Weekend Facebook event frequently for updates regarding the many special deals that will be available in Lakewood throughout the weekend.
Small Business Saturday includes Breakfast with Santa taking place Saturday, November 30, from 9 a.m. to 12 noon at O'Neill Healthcare Lakewood. This popular holiday tradition consists of "Selfies with Santa" photo opportunities (bring your own camera), a seated breakfast (pancakes, eggs and sausage) and a children's activity room featuring opportunities to write letters to the North Pole. Visit LakewoodAlive.org/Santa to secure your tickets.
For more information regarding Small Business Weekend in Lakewood, please contact LakewoodAlive at 216-521-0655.
Matt Bixenstine
I am the Marketing & Development Manager for LakewoodAlive. I enjoy all things Lakewood, especially walking my basset hound through Madison Park.
Read More on City
Volume 15, Issue 22, Posted 4:39 PM, 11.20.2019