Beatlemania At The Barton Senior Center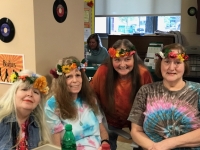 More than 50 years ago today, the Beatles came our way to play. On October 17th, the Barton Senior Center was the place to be to celebrate those days with a dose of Fab Four nostalgia.
Sponsored by Lakewood's O'Neill Healthcare, "Beatlemania" represented a blast from the past as many attendees wore tie dye shirts made by Barton Center staff and volunteers. Oldies played as guests lunched on offerings from new neighbor, Ohio City Burrito.
There were raffles and prizes before the crowd streamed past tables of memorabilia which included vintage photos, posters and clippings from local media. Next came the day's main event.
Dave Schwensen, author of "The Beatles in Cleveland," gave a lively presentation showcasing the band's two mid '60's concerts downtown. His comprehensive discussion began with the "preBeatles" cultural climate and progressed to their rise to fame. Schwensen's insider knowledge then became the focus of his talk. Stories of behind the scenes maneuvering by local radio stations (to get the megastars to come to Northeast Ohio) were revealed as well as other anecdotes. One had the Beatles traveling by bus from Detroit to Cleveland. Along the way, they detoured to a rest stop in Vermilion where they were confronted by a car full of girls who had followed them all the way from the Motor City!
Then came the actual performances. Despite the fact that, according to one officer, the Beatles had more protection than JFK, both shows were temporarily halted due to fans rushing the stage. This resulted in the Beatles being banned from performing in Cleveland in the future. Schwensen's entertaining narratives were punctuated by rare footage of those infamous concerts and the reaction from local officials.
The afternoon concluded with audience members recalling their own Beatles memories from the Public Auditorium or Municipal Stadium keeping the Cleveland connection to "Beatlemania" front and center. Another participant shared that she had lived in Milwaukee where throngs of screaming fans camped outside the boys' hotel. She, along with her friend, decided to sneak around to the back. They were rewarded when John, Paul, George and Ringo exited the building and went straight to a waiting car. Other than a single policeman, nobody else was there to witness their escape!
One woman, somewhat more mature than the rest, asked what was the cause of all the mania surrounding the Beatles. She did not quite understand it. Volumes could be written, but perhaps it was because they were so original, charismatic and talented. Their music (both melodies and lyrics) has continued to stand the test of time. We did not know that then but sure do now.
At the conclusion of the Barton Senior Center's "Beatlemania" event, there was a buzz in the air. It could be said that a splendid time was had by all!
Adelaide Crnko is a Lakewood resident, film buff, amateur photographer, traveler and lover of rock n' roll.
Adelaide Crnko
Lakewood resident, film buff, amateur photographer, traveler and lover of rock n' roll.
Read More on
Volume 15, Issue 22, Posted 4:39 PM, 11.20.2019