Students Work To Make Home Alone Project Reality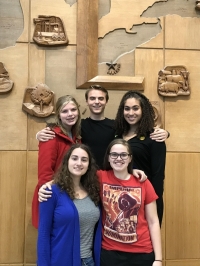 A group of 11 Lakewood High students spent hundreds of hours this past summer and the first months of the school year devoting their time to a project that has become near and dear to their hearts. They are working together to create the Home Alone Youth Leadership Program for Help To Others (H2O). Their work on the program, which aims to educate 9-12-year-olds about how to safely be home alone or with younger siblings, has given them leadership skills that will serve them well, long after their time with Home Alone.
The 11 teens make up the Home Alone Research & Development team and are the heart of the project, along with youth leadership consultant Celia Dorsch, who facilitated the Home Alone concept from 1997-2007 as former director of H2O and now guides the second iteration of the program along with H2O's Emmie Hutchison and Amy Chodzin. To aid in developing the program, the R&D team held a retreat in July where they heard from first responders and internet crime investigators regarding how youth can be safe at home while parents are away. Since then, the team has recruited 42 more high school students to run four Home Alone workshops for the younger students and their parents that will be held in January and February. Registration for the sessions begin November 15, 2019 on the H2O website (h2olakewood.org)
The R&D group has taken ownership of the program from the start, working on finding sponsors and experts to guide them, cultivating community connections and developing marketing materials and promotional strategies.
To listen to the R&D members explain why they wanted to be involved with the Home Alone project is to be inspired by the maturity and commitment to their community these young people possess.
"I saw (Home Alone) as something different than what I was doing before with H20, I saw it offered more direct action and more direct impact on younger people," said senior Hayley Welsh.
The group members believe they can uniquely connect with the younger students who will attend the sessions as many of them have been in their shoes as someone who was home alone at a younger age.
"I could relate to the anxieties (of staying home alone) and I wanted to help," sophomore Lavinia Grandt said, regarding why she joined the project.
As the workshops near, members will be working in one of six groups they have been assigned to and will be responsible to present on the topic. The R&D team determined the most important areas to address are: First Aid, Internet Safety, To/From School, After School Routines, and Tricky People.
It has been a labor of love for the R&D group to get to the point where they are ready to register participants for the session. "Everyone has become like a family," said sophomore Sarah Donaldson of the group. "It is a safe place to share our ideas and everyone is respected."
In addition to Sarah, Hayley and Lavinia, other members of the R&D team are: Kim Banak, Johana Guci, Emma Hart, Jacob Kavc, Gina Marjanovic, Olivia Patterson, Sydney Wilhelmy, and Tully Worron.
Dorsch couldn't be happier with the work the R&D team has done to get the program off the ground.
"I am amazed by the dedication and commitment of this group of students," she said. They have voluntarily devoted over 400 hours to this project. Watching their leadership skills emerge and expand, as they negotiate all the hurdles involved in planning and executing a program as large and impactful as Home Alone, is inspiring!"
Read More on Schools
Volume 15, Issue 21, Posted 12:59 PM, 11.06.2019