Lakewood Women's Club Elects Officers For 2019-2020 Term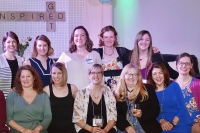 Members of the Lakewood Women's Club (LWC) have launched a new year by unanimously voting in the Slate of Officers presented at their annual Installation Dinner. The incoming Executive Board includes President Diana Quickel-Ketchaver, Vice President Jessica Price, Secretary Melis Uras, and Treasurer Margaret Wetzler.
Mrs. Quickel-Ketchaver is entering her second term as president of Lakewood Women's Club. During this year she hopes to offer monthly social opportunities to allow LWC members to gather together and engage with members of the community. She also seeks to increase LWC's membership with diverse women who represent the makeup of Lakewood. Mrs. Quickel-Ketchaver is excited to continue to promote the club's focus of supporting and celebrating Lakewood women doing wonderful things within the community.
Representatives of the Standing Committees for 2019-2020 will be:
By-Laws Co-Chairs: Jessica Price and Margaret Wetzler
Grant Liaison: Anastasia Loejos Morrison
Magpie Editor: Mary Dugger Dodge
Membership Co-Chairs: Kristy Feyedelem and Melis Uras
Public Relations/Social Media Chair: Melissa Zreny
Scholarship Chair: Kathleen Rocco
Social Chair: Kristy Feyedelem
Spring Fundraiser Co-Chairs: Torey Worron, Lissette Rivera, Melissa Zreny, Jessica Price and Lyn Haselton
Winter Ways and Means Chair: Margaret Wetzler
Founded in 1962, with roots going back to the early 1900s, the Lakewood Women's Club (formerly known as Junior Women's Club of Lakewood) provides a philanthropic organization for women who are interested in serving their community while having fun and making new friends. The club supports Lakewood by raising funds to support a non-profit organization, selected by membership bi-annually, through an application process. Additionally an annual scholarship is awarded to a female high school senior pursing a higher education. In 2017, Women Honoring Women was started as an annual event to celebrate leaders in the community while raising funds for its charities. If interested in membership, visit lakewoodwomensclub.org or contact Kristy Feyedelem or Melis Uras at lakewoodwomensclub@gmail.com.

Meissa Zreny
Melissa Zreny, Social Media/Public Relations Chair for The Lakewood Women's Club.
Read More on Non-Profit
Volume 15, Issue 21, Posted 12:59 PM, 11.06.2019