Give A Gently Used Coat To The Homeless; Get A $25 Gift Card From Geiger's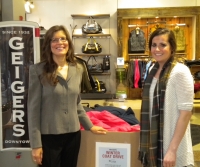 FrontLine Service and Geiger's are asking Lakewood to donate "gently used" coats to the homeless. Coats can be dropped off at Geiger's store, 14710 Detroit Avenue, from November 1 through November 10. Everyone donating a coat will receive a $25 Geiger's Gift Card, good on the purchase of a new coat.
This is the fourth year Geiger's and FrontLine have joined forces to help the homeless in Cuyahoga County.
"We are so grateful for the generosity of Geiger's. Winter is always such a difficult time for those who are homeless. The toys and coats that will be donated will make a difference for many children and adults in our community this winter," FrontLine Service Executive Director Susan Neth said.
"We are most impressed with the remarkable programs FrontLine provides to our most vulnerable fellow citizens," Geiger's President Chas Geiger said. "We are proud to team up with them and invite our customers to make a very meaningful donation to a homeless person."
FrontLine Service is a private non-profit behavioral health organization that, for the past 30 years, seeks out, then serves the community's most traumatized and vulnerable people: children affected by violence, the homeless, and those who are in crisis.
Geiger's, which began in Lakewood nearly 90 years ago, outfits Lakewood with the best brands in ski and snowboard gear, clothing, shoes and accessories. The company is managed by brothers Chas and Gordon Geiger and their wives, Patti and Susan, representing Geiger's third generation. They are assisted by Geiger's fourth generation – Christy and John.
Tom Gibbons has lived in Lakewood for 37 years and does part time work for Geiger's.
Tom Gibbons
Tom has lived in Lakewood for 37 years and does part time work for Geiger's.
Read More on City
Volume 15, Issue 21, Posted 12:59 PM, 11.06.2019