Club Welcomes New Exchange Student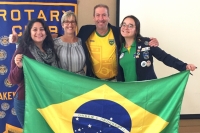 Estefania Orpheu Pinheiro de Castro, inbound Rotary Youth Exchange student from Brazil, is being hosted by the Rotary Club of Lakewood & Rocky River.
No stranger to youth exchange, the club has had at least one exchange student every year since Lisa Nestorsen (from Sweden) in 1982.
"Este" is attending Lakewood High School as a senior. When Este returns home, she will have to take six more months of classes to graduate.
A youth leadership development program of Rotary International, RYE gives high school students the opportunity to spend up to 12 months in another country living with local host families. These families, with the support of the student's Rotary counselor, the local Rotary club and district, provide the student with opportunities to experience life in the U.S. while being an ambassador for Rotary and the student's home country.
Rotary states that RYE's objectives are "Instilling international understanding and goodwill in students, creating positive change by empowering youth, and making lasting connections for host clubs, host families, communities, and the students involved."
Exchange students are called "outbounds" by their home (sponsor) Rotary club and district, and simultaneously "inbounds" by their host Rotary club and district in the country where they spend their year. Students who have completed their exchanges are called "rebounds." 80 countries typically participate in the Youth Exchange each year.
Living in a foreign country is a powerful way to gain global understanding and promote world peace. Through the youth exchange program, exchange students enhance their language skills, discover different cultures and make friendships that last a lifetime.
Rotary Youth Exchange is just one of the programs sponsored by the Rotary Club of Lakewood and Rocky River. The club also plans and supports community, youth, vocational, and international service projects in these cities. For more information contact harlanrjr@yahoo.com.
Read More on Civic Groups
Volume 15, Issue 21, Posted 12:59 PM, 11.06.2019