2nd Annual End Hunger In Lakewood Day Set For Saturday November 16th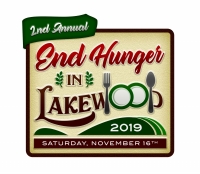 Matt Fish, owner and founder of Melt Bar and Grilled, has again spearheaded the annual End Hunger in Lakewood event scheduled for Saturday, November 16th. "We had an exceptionally successful first event last November with 34 restaurants and food retailers participating. Donating 10% of food sales on a Saturday is not a small gesture," said Fish. All the money raised will go to Lakewood Community Services Center's efforts to provide emergency food to 15% of the population of Lakewood who need food support. "This year 43 establishments responded immediately to my request to participate. This outpouring of support for needy Lakewood residents speaks to the generosity of my colleagues here in town," added Fish.
"We used 100% of the $11,000 raised last year to purchase fresh fruit and vegetables for individuals who come into the Center and for the seniors in subsidized housing who rely on our monthly door-to-door deliveries," said LCSC Executive Director Trish Rooney. "Our goal is to supplement the shelf-stable groceries we are always able to provide with healthy food options, but this is easier said than done. The cost can be prohibitive, but with the incredible generosity of our local restaurants and shops last November, we were able to purchase and distribute fresh produce every month."
When you dine out and shop on Saturday November 16th, please visit one – or more – of these participating establishments. Enjoy great food, be a part of this annual community-wide event for our neighbors in need, and support these generous participants.
Businesses taking part...
• Addicted Coffee Bar Lakewood
• Aladdin's Eatery
• Angelo's Lakewood
• Around The Corner
• Barrio Tacos
• Barroco
• Blackbird Baking Company
• The BottleHouse Brewery Lakewood
• Buckeye Beer Engine
• Cleveland Vegan Catering & Cafe
• Deagan's Kitchen & Bar
• Dewey's Pizza - Lakewood
• The Dinerbar On Clifton
• El Carnicero
• Fear's Confections
• Forage Public House
• Gatherings Kitchen
• Georgetown Restaurant Lakewood Ohio
• Goodkind Coffee
• Gray Dog Diner
• Harlow's
• Humble Wine Bar
• Ice Cream Joy Cafe
• Italian Creations*
• KB Confections of Lakewood
• Soupermarket
• LBM
• Little Lakewood Pasta
• Mahall's 20 Lanes
• Malley's Chocolates*
• Melt Bar and Grilled
• Molto Bene Italian Eatery
• ROOD Food & Pie
• Salt+
• Sarita a restaurant*
• Sauced Taproom & Kitchen
• Sweet Designs Chocolatier
• Taco Tanto's
• THAI THAI
• the Root Cafe
• The Tea Lab
• The Winchester Music Tavern
• Woodstock BBQ

*Donating directly to LCSC and not part of the dine & donate event.
** Held their event on October 28th due to their move to a new Lakewood location.
Trisn Rooney
I am the Executive Director of Lakewood Community Services Center.
Read More on Non-Profit
Volume 15, Issue 21, Posted 12:59 PM, 11.06.2019