Callahan Seeks Seat On Board Of Education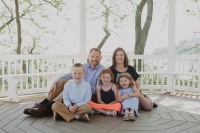 My name is Michael J. Callahan and I am a candidate for the Lakewood Board of Education. I'm running as an advocate for our schools and our community. The Lakewood City Schools are in a good place with dedicated teachers, great administrative leadership, and new or newly renovated buildings. We have a unique opportunity to make these investments continue to pay dividends in the community.
Our Board of Education can be more effective with added representation of young families and the fresh perspectives that come with it. As a parent of children in elementary school, I have routine interactions with parents, teachers, and staff and am positioned to represent the community.
My wife Kristyn and I are both lifelong Lakewood residents, and we have been proud to send our children to the Lakewood City Schools. Our oldest is a fourth grader at Grant Elementary School, our middle child is a second grader at Emerson Elementary School, and our youngest (age 3) will soon attend Lakewood schools.
I currently serve as a block club captain, a parish council member at St. Luke Church, and as a volunteer coach (among other roles). While serving in the past on the City's Active Living Task Force I became more aware of how many programs, groups, and organizations rely on our school infrastructure to operate.
Over the past several months I have met with hundreds of residents and heard much feedback about the district. Through my discussions with teachers, administrators, and current board members, the challenges that remain with the district have become more clear. Local and state funding, testing, and state report cards are areas of concern. I am prepared to work with all stakeholders on these and other matters moving forward.
Comprehensive education includes great opportunities in music, art, athletics, and community service. I recognize the many strengths of our schools as well as areas for growth.
I am a graduate of Ohio State University (bachelor's degree) and the University of Akron (MBA). As an MBA I understand fiscal responsibility and the value of great customer experiences. We need to utilize all available resources to offer the highest quality education to attract and retain families.
As a public sector manager and parks & recreation professional, my work experience has taught me that boards work well when they hire the best possible leaders, create a welcoming and supportive environment for them, and allow them the freedom to work to the best of their abilities. I believe this approach holds true for teachers and all staff as well.
In a career spanning 18 plus years, I have held public sector parks & recreation roles in Lakewood, Orange, and Bedford (with time in between in the banking industry). In my experiences, the vital role of recreation in creating and supporting healthy communities has been reinforced repeatedly. Since recreation services in Lakewood are a function of our school district, our Board of Education is in a unique position in the state to lead in this area and serve our entire community.
To learn more about me or my campaign, visit www.callahanforlakewood.com, email me at friendsforcallahan@gmail.com, or feel free to call (216) 202-4082. I ask for your vote on November 5.
Michael Callahan
Michael Callahan is a lifelong resident of Lakewood. He and his wife, Kristyn (Kadow) have three children. Michael works in the public sector as a parks & recreation professional.
Read More on Features
Volume 15, Issue 20, Posted 4:59 PM, 10.16.2019