Laura Rodriguez-Carbone's Response To Tess Neff's Rebuttal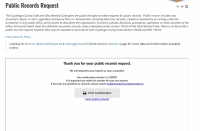 Looking at the document provided me by the publisher of the Observer, which was provided to him by my opponent, I noted some potential missing elements and incomplete information. Because of this, I have submitted a public records request to Cuyahoga County to confirm.

I believe that considering the circumstances, a public records request must be completed to ensure the veracity of the information submitted, which was incomplete, and is different than at least the last five juvenile court annual reports, that list administration and budget under two different departments.
Read More on
Volume 15, Issue 20, Posted 4:01 PM, 10.07.2019